Mystery Box: Cranberry Waffles with Coconut Mint Whipped Cream
Serves

4
30 minute prep time
By Elim Kwok on December 14, 2016
For December's Mystery Box, we challenged three Vegatopians to come up with a cranberry-inspired dish to help you make use of all of those extra cranberries that won't make it into your holiday cranberry sauces or side dishes.
If you're planning a super special breakfast, these waffles will be your new favorite! Whip up a batch of coconut mint whipped cream and make it a grand breakfast extravaganza. To prepare, you'll have to complete the first couple steps for the coconut whipped cream the night before. Get ready for a decadent breakfast feast!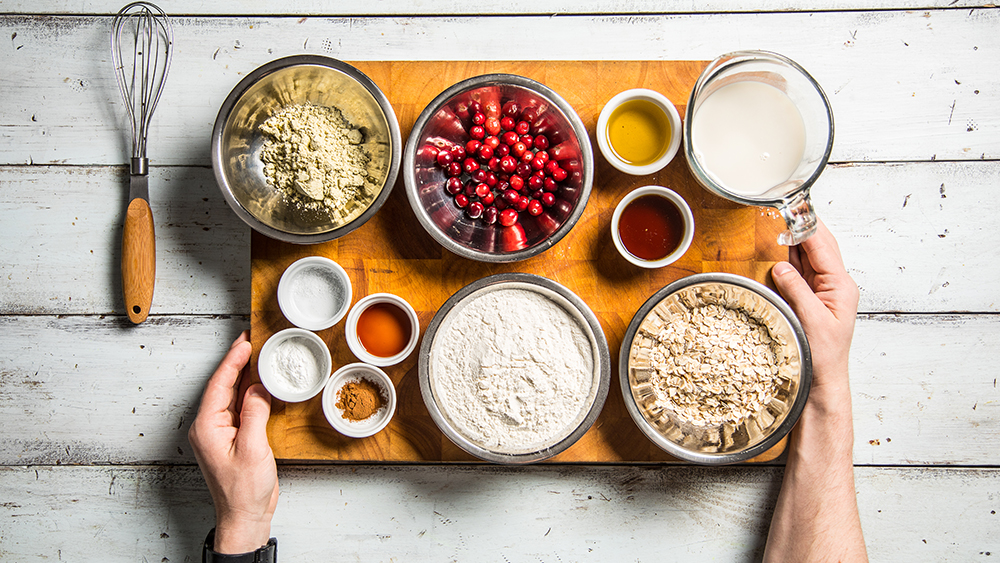 Ingredients
Waffles:
1 1/4 cup Silk® Original Unsweetened Almondmilk
1 tsp white or apple cider vinegar
1/4 cup olive, canola, or melted coconut oil
1/4 cup maple syrup
1/2 cup gluten-free rolled oats
1 3/4 to 2 1/4 cups gluten-free flour blend
1 1/2 tsp baking powder
Pinch of sea salt
1 tsp vanilla extract
1/2 tsp cinnamon
3/4 cup fresh cranberries
1/2 cup French Vanilla Vega One® All-in-One Shake
Mint (for garnish)
Coconut Mint Whipped Cream:
1 14oz. /414 ml can coconut milk
1/4 to 3/4 cup organic icing/powdered sugar
1/2 tsp vanilla extract
1 to 2 mint leaves
Chocolate Drizzle:
1 bar of organic dark chocolate
Preparation
Waffles:

Combine almond milk and vinegar in a small mixing bowl and let set for a few minutes. Add the olive oil and maple syrup and whisk.
Add dry ingredients to a large mixing bowl and whisk until mixed well.
Add wet ingredients and mix, mix, mix! Test the batter and add more vanilla extract and maple syrup if you want it sweeter.
Let the mixture set for 5 to 10 minutes while your waffle iron preheats. Depending on the gluten-free flour blend used, additional flour may be needed to reach desired consistency. If batter is runny, add additional gluten-free flour two tablespoons at a time. Tip for that crispy crunch: set the waffle iron on high.
Once ready, coat the iron with non-stick spray and pour on about 1/2 cup of batter. Once cooked to the desired crunch, remove the waffle and place on a baking rack in the oven to keep warm. Make sure you don't stack the waffles so you don't lose the crispy texture!

Coconut Mint Whipped Cream:

Heat vanilla extract, two tablespoons of water, and mint leaves on the stove until it boils.  Remove from heat and let it sit for 15 minutes.
Strain through a sieve and extract as much liquid as possible.  Chill in the fridge overnight.
Chill your canned coconut milk in the refrigerator overnight.  Don't tip or shake the can, otherwise the product might separate!
The next day, chill a large mixing bowl 10 minutes before whipping.
Remove the coconut milk from the fridge without tipping or shaking and remove the lid. Scrape out the top, thickened cream only.
Place the hardened cream and mint leaves in your chilled mixing bowl. Beat for 30 seconds with a mixer until creamy. Then add vanilla extract and organic powdered sugar and mix until creamy and smooth – about 1 minute. This is again where I like to add more vanilla extract or maple syrup to my preferred sweet taste!

Chocolate Drizzle:

Melt your chocolate in a pot and keep warm until you serve the waffles. That's it.

Combining the Goodness:

Once ready to munch, top with whipped cream, drizzle with maple syrup and melted dark chocolate, and add a sprig of mint leaves for garnishing.  ENJOY!