Pancakes aren't just for Sunday mornings. With this recipe you can have fluffy chocolate pancakes, in 15 minutes flat, any day of the week.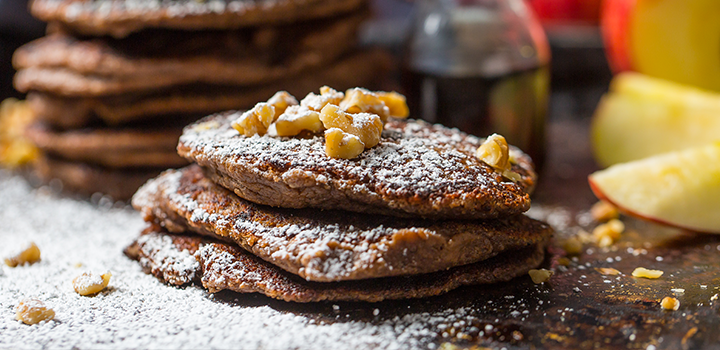 Ingredients
1 serving Chocolate Vega® Clean Protein
¾ cup gluten free oats
¼ cup gluten-free all-purpose flour
2 tsp baking powder
¼ tsp salt
½ tsp cinnamon
¼ cup applesauce
1 Tbsp sugar
2 Tbsp + 1 tsp coconut oil
1 cup Silk® Unsweetened Almondmilk (option to use chocolate almond milk instead)
Topping:

Coconut oil

Maple syrup

½ chopped apple
Chopped nuts (like walnuts, pecans)
Preparation
In a blender, blend oats and Vega® Clean Protein until combined into a fine flour.

Place flour in bowl. Mix in gluten-free all-purpose flour, baking powder, cinnamon, salt and sugar.

In a separate bowl, combine apple sauce, almond milk and 2 tablespoons coconut oil.

Add wet to dry, careful not to over mix (small lumps are ok).

Set mix aside to allow baking powder to create air bubbles, for fluffier pancakes.

Heat pan on medium heat. Splash water on pan, if it sizzles, the pan is hot enough.

Drop 1/2 teaspoon coconut oil on pan and spread.

Drop spoonful of batter, cooking 3 to 4 pancakes at a time.

Cook until batter covered in bubbles, once bubbles start to burst and edges dry, flip.

Flip, cook for 2 to 3 minutes.

Repeat with remaining oil and batter.

Top with chopped apple, coconut oil and maple syrup.