By Ksenia Avdulova, founder of Breakfast Criminals.
How you start your first waking moments can affect the whole day, so why not start it with a delicious smoothie served with love in a bowl? Ginger adds a refreshing touch to your regular green smoothie, while raw cacao nibs elevate it to the category of heavenly. Having an array of vitamins and minerals, this creamy green smoothie bowl can help leave you feeling satisfied.
About Ksenia Avdulova, founder of Breakfast Criminals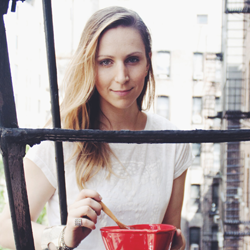 Ksenia is a writer, traveler, Strala yoga guide and author of the Breakfast Criminals ebook who believes that starting your day with a nourishing meal prepared with love makes you a happier person. By day, she's a digital marketing strategist and co-founder of grassroots ethical shopping movement #FairTuesday. Join Ksenia for yoga and superfoods retreats in blissful places around the globe.
Ingredients
1 cup almond milk
1 frozen banana
¼ to ½ ripe avocado, depending on the size
1 cup kale (fresh or frozen)
¾ apple, cored and sliced
1 slice lemon, unpeeled
1 inch ginger, peeled and chopped
1 serving French Vanilla Vega One® Organic All-in-One Shake
1 tsp Vega® Maca
Toppings: remaining apple, raw buckwheat granola, 2 strawberries, 1 tbs raw cacao nibs and if you're feeling adventurous, edible flowers—I used nasturtium)
Preparation
Add all ingredients to the blender, starting with liquids, followed by solids and then frozen ingredients for optimal texture.

Pour smoothie into a bowl.

Decorate with toppings. Get creative – this is the most fun part!