Homemade Veggie sushi
Let's go to the kitchen and whip up some vegan sushi hand rolls. Yes, that's right, you can make veggie sushi at home, no mat required. Instead of rolling them into tubes and slicing them, these are rolled into individual sushi cones. This way everybody can create their own personalized roll and your kids don't have to share. Throw a sushi-making party and get everyone to work their sushi making magic. Give this vegetarian sushi recipe a go!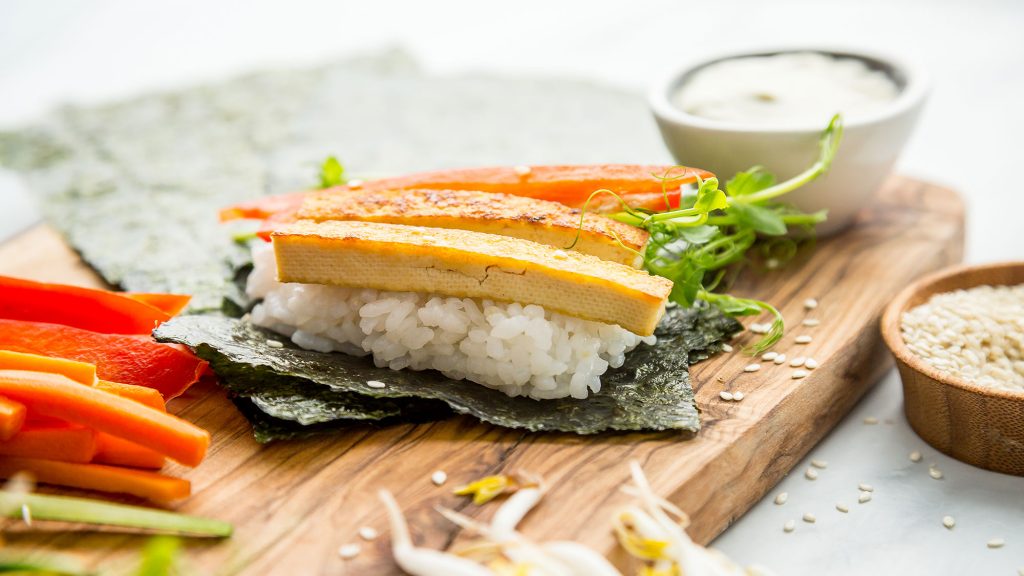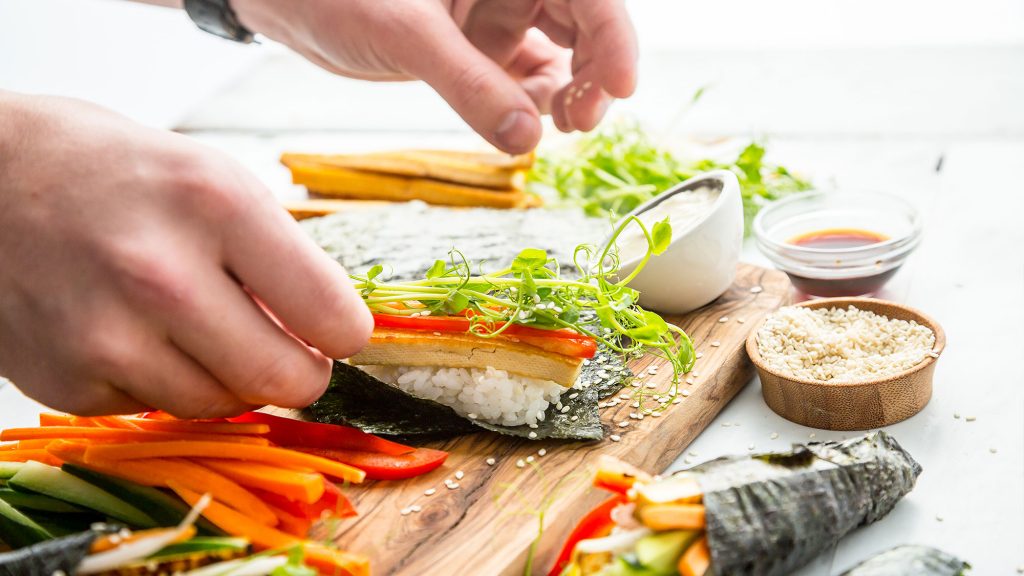 Ingredients
Sushi:
4 nori sheets, cut in half
1 cup sushi rice, cooked
1 cup carrots, julienned
1 cucumber, peeled and julienned
1 cup sprouts or pea shoots
1 block firm tofu, sliced
2 Tbso sesame or grapeseed oil
Dips and Toppings:
Wasabi mayo (combine 1 tsp powdered wasabi with 1/2 cup vegan mayonnaise)
Tamari, as preferred
Sesame, as preferred
Additional veggie filling options:
Avocado, thinly sliced
Peppers, thinly sliced
Preparation
Drain tofu and blot with paper towel. Slice thinly.

Heat oil in a large skillet over medium-high heat. Add tofu and cook until golden, stirring occasionally. Place on a paper towel lined plate and set aside. Like it crispy? Follow these tofu directions.

Cut nori sheet in half with scissors and place in the palm of your non-dominant hand, shiny side down.

Spread a bit of your cooked rice on approximately 1/4 of the sheet, on the side supported by your hand.

Place your fillings vertically along the rice.

Start folding the corner of the sheet with filling on it over the rice and filling, toward the center of the sheet.

Roll sheet into a cone shape. Wet your index finger and use it to seal the sheet. You may want to add a dollop of rice in the bottom corner to use as glue to help keep it closed.

Sprinkle open end with sesame seeds.

Serve with your choice of dips.