Homemade plant-based bacon is perfect for having on the side of a tofu scramble, added into your favorite sandwich or crumbled on top of Caesar salad.
Depending on which "bacon" you choose to make you'll get a different "bacon" texture. Mushroom bacon is chewy and crisp. Carrot bacon is crisp, hearty and a little extra sweet. Eggplant and zucchini bacon is crisp. Tofu bacon is chewy and tempeh bacon is crispy and perfect for crumbling for bacon bits.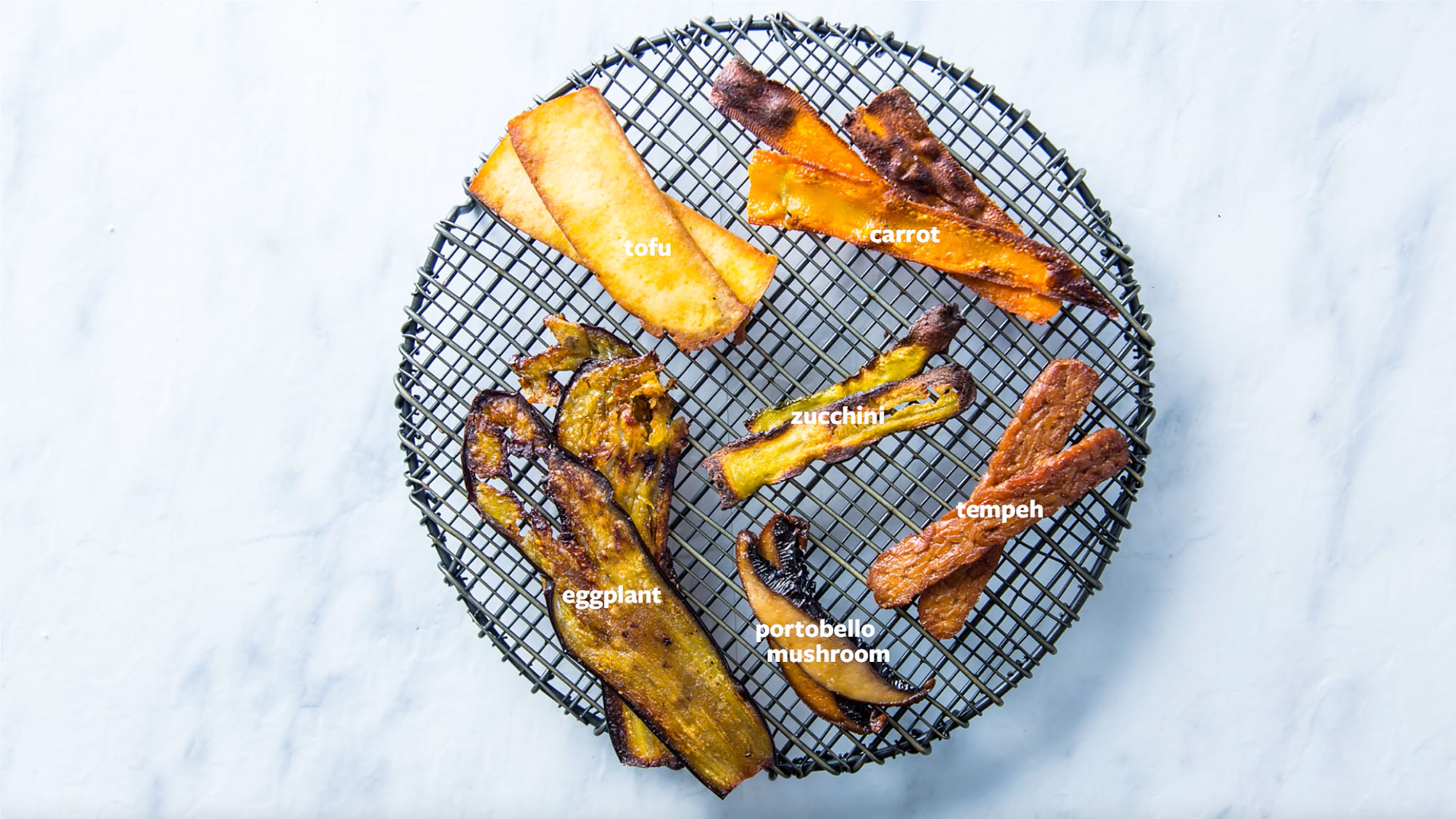 Try experimenting to make different "bacons" using this same method. Beet bacon? Potato bacon? Tomato bacon?
Ingredients
4 Tbsp vegetable oil
1 Tbsp maple syrup
2-3 tsp liquid smoke
1 tsp garlic powder and/or paprika (optional)

Pepper

Salt

Veggies to Turn into Bacon (choose one or a few)

2-3 carrots

1-2 small zucchini

½ eggplant

1-2 Portobello or oyster mushrooms
¼-½ package extra firm or pre-pressed tofu
¼-½ package tempeh
Preparation
Preheat oven to 350F

Thinly slice "bacon" (best to use a mandoline if you have one). If using zucchini or eggplant cut to about 1/8-1/4 inch think. For other "bacons", cut slightly thinner about 1/6-1/8 inch thick.

Brush a sheet pan with a tablespoon of vegetable oil.

Combine remaining vegetable oil, maple syrup and liquid smoke in a small bowl.

Lay "bacon" in a single layer on the sheet pan. Brush the top layer with the oil mixture and season generously with salt and pepper. Don't skimp on the salt – good bacon is always salty.

Bake for 10 minutes and brush with more oil mixture. Then carefully flip bacon using a thin metal spatula. Brush "bacon" with remaining oil mixture and season again with salt and pepper.

Bake another 5-15 minutes depending on desired doneness. When deciding on when to take "bacon" out of the oven keep in mind the "bacon" will crisp up more once it sits for a few minutes.

Approximate Cooking Times:

Mushrooms: 15-20 minutes total

Zucchini:15-25 minutes total

Eggplant: 15-25 minutes total

Tofu: 15-20 minutes total

Tempeh: 15-20 minutes total

Carrots: 10-25 minutes total