Typically I fall into the DI-Don't category. My DIY attempts are good for a laugh and that's about it. Unless it involves food—then watch out. I'm a DIY boss. So even if you don't consider yourself a DIY'er I encourage you to give this easy gift project a shot. If you're a seasoned DIY'er then feel free to jazz this up as only a DIY master like yourself knows how.
Love peppermint spoons more than anything? Pick up a silicon spoon shaped candy mold. Crush candies as you'll be directed, add to molds, and heat until melted.
mason jar hot chocolate
This recipe can be halved (use an 8oz. Mason jar) or quartered, for single-serve mini jars (use 1a 4oz. Mason jar).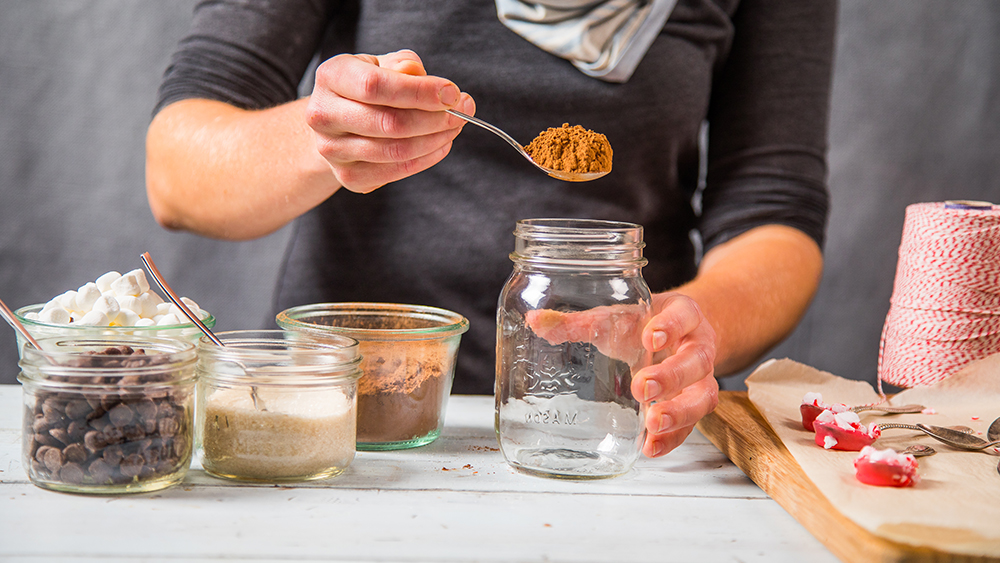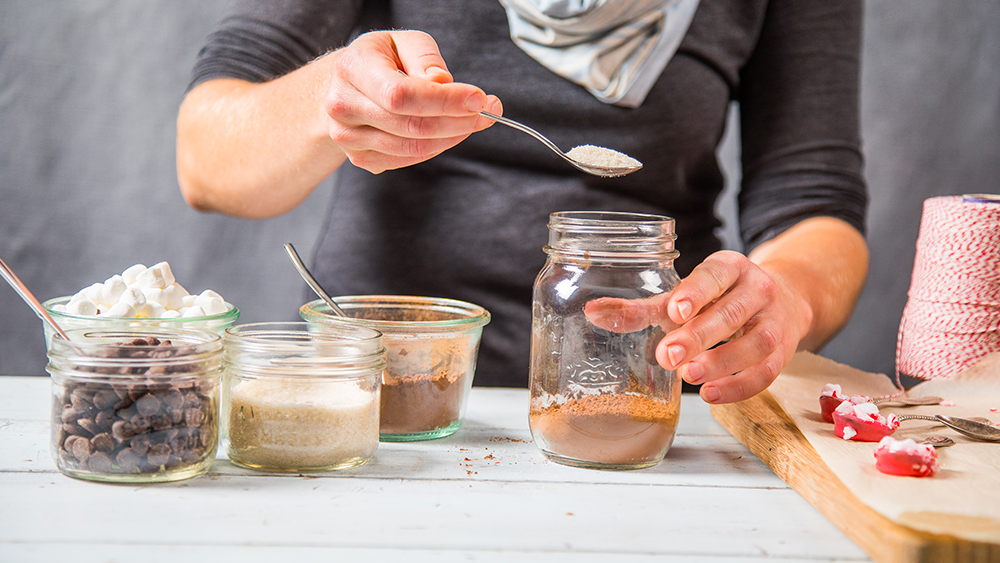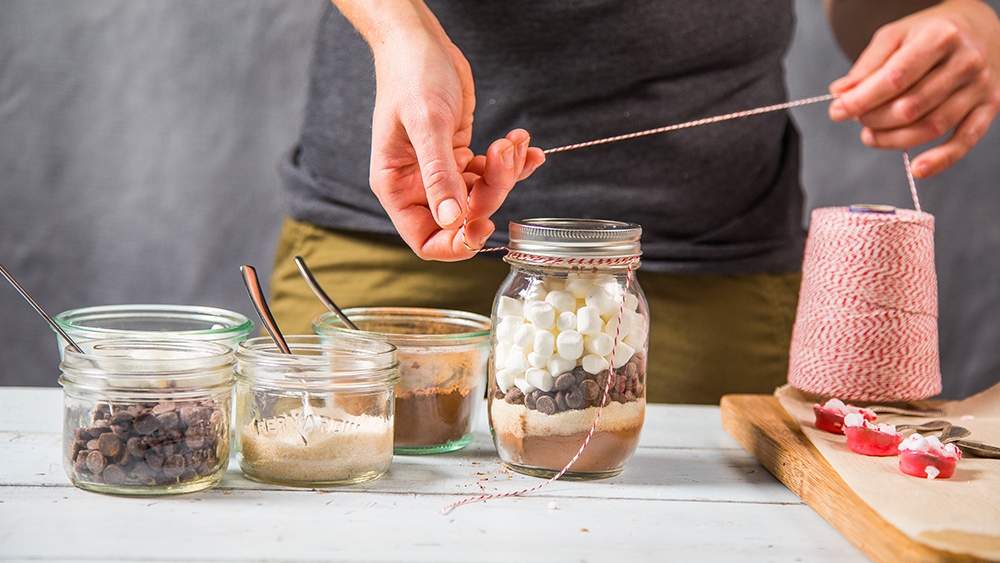 Ingredients
Hot Chocolate:
8 Tbsp cocoa powder
4 tsp sugar
8 Tbsp dairy free chocolate chips
4 Tbsp mini vegan marshmellows
Optional: Sub 2 Tbsp cocoa powder for 2 Tbsp Chocolate Vega® Essentials
Peppermint Spoon:
Crushed red and white swirled peppermint candies or candy cane (12 candles or 2 to 4 candy canes, size dependent).
Wooden cutlery spoons (if you can't find these you can substitute popsicle sticks)
Preparation
Hot Chocolate Mason Jar Directions:

Carefully and evenly layer cocoa powder, sugar, chocolate chips and then mini marshmallows in a 16oz. Mason jar. Top with lid.

Peppermint Spoon Directions:

Unwrap candies and place in a food storage bag.
Using a kitchen mallet (or anything hard you have in your kitchen – I used the back of a metal ice cream scoop) coarsely crush the candies.
Roll out a piece of parchment paper.
Remove a half of the crushed candies and melt in microwave-safe dish (alternate option: melt at 300°F degrees in the oven).
Dip a spoon into the melted candy, filling the spoon (act fast – it hardens quickly), and sprinkle with coarsely chopped candy pieces.
Lay flat to dry on parchment paper to cool and harden. Note: For longer storage and transport, place spoons in decorative bags.

 

Usage Directions:

Remove marshmallows from jar.
Add one cup water and remaining ingredients to pot and stir over medium-high until desired temperature reached. Optional: For even creamier hot chocolate sub your favorite non-dairy beverage.
Pour in mug and top with marshmallows.
Add peppermint spoon and stir.