Green cardamom is the base of the best chai recipes. It adds intense fragrant notes of green spice and pepper. To build on the flavor of cardamom, we add various other spices that each adds their own unique notes to the chai taste.  Cinnamon adds warmth and sweetness, fennel adds a light licorice note and star anise adds a stronger and sweet licorice flavor. Coriander adds a sweet citrusy note, and ginger and peppercorns finish it off with their own spice notes.
Personally, I like a very spicy chai and I bump up the ginger or peppercorns in this recipe, but the recipe is easily adjusted to your own person chai preference. Swap vanilla flavor Vega® plant-based protein powder for a chocolate flavor to make a chocolate chai, or swap vanilla for mocha to create a chocolate dirty chai.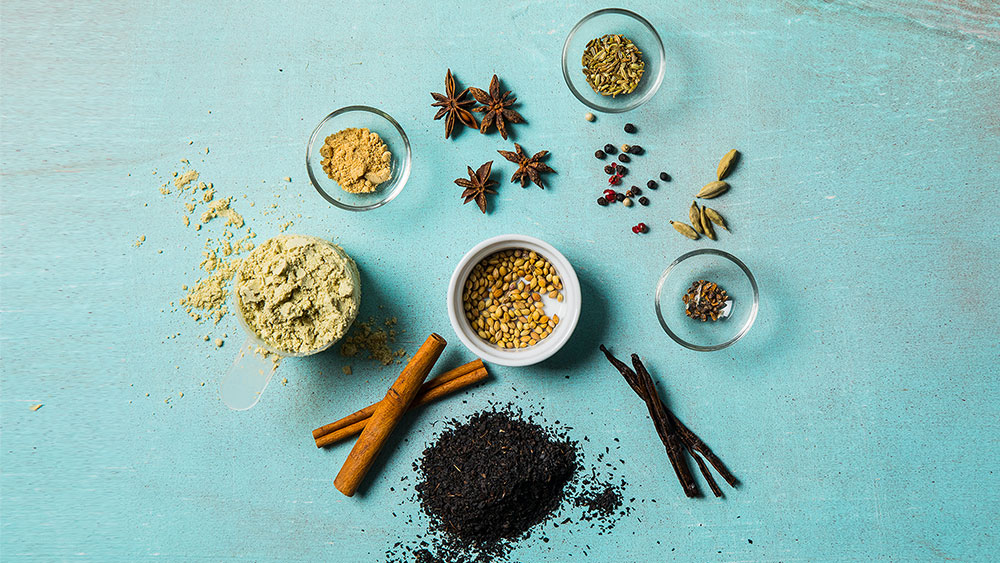 Preparation
In a dry skillet, toast star anise, cinnamon sticks, cardamom seeds, coriander seeds, peppercorns, and fennel seeds until fragrant and fennel seeds are golden.

Combine spices into a high powered blender or coffee/spice grinder and grind until fine powder.  Add tea leaves, powdered ginger, and optional vanilla bean scrapings and continue grinding until combined.

In a small bowl, combine spice powder and Vega® plant-based protein powder, stirring until well combined.

Store in an airtight jar. Mix will last up to a month, but the fresh spice flavor is best within a week of making.

To make tea, heat 1 ½ cups of non-dairy milk per serving until simmering. Turn off heat and whisk in three tablespoons of chai mix per serving. Allow to steep 2 to 3 minutes.

Pour through a mesh tea strainer and serve!