Prep all the ingredients for this cold noodle salad, then get your crew to each assemble their own salads in a reusable container and head to the beach for a sunset picnic. This Vietnamese inspired Vermicelli Salad can be prepped mostly ahead of time: the "fish sauce" will keep up to a month refrigerated. The veggies and tofu can all be prepped a day or two ahead, but the noodles should be made the day of for the best texture.  Take your salad to another level by topping it with crispy spring rolls and quick pickling the carrots and daikon.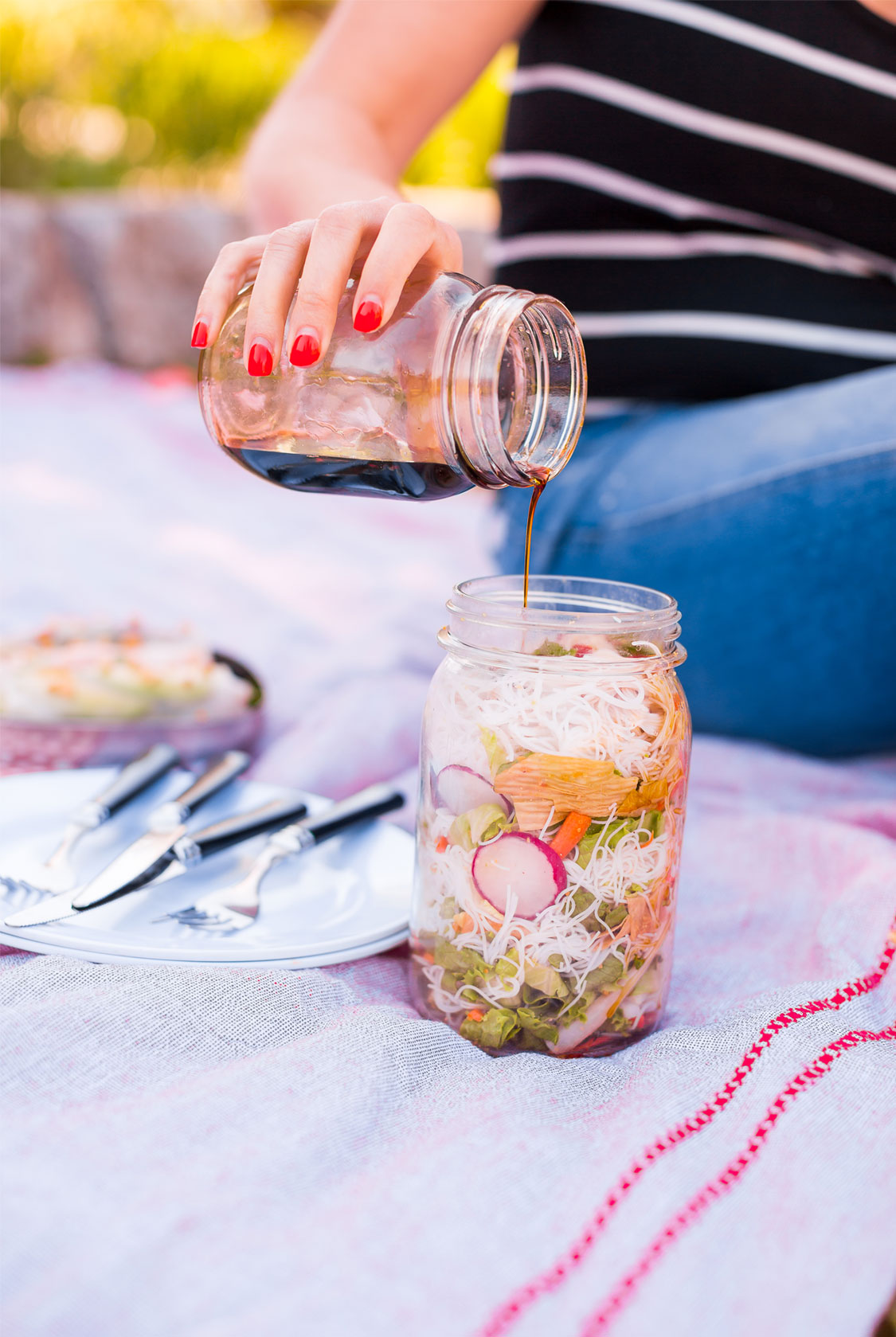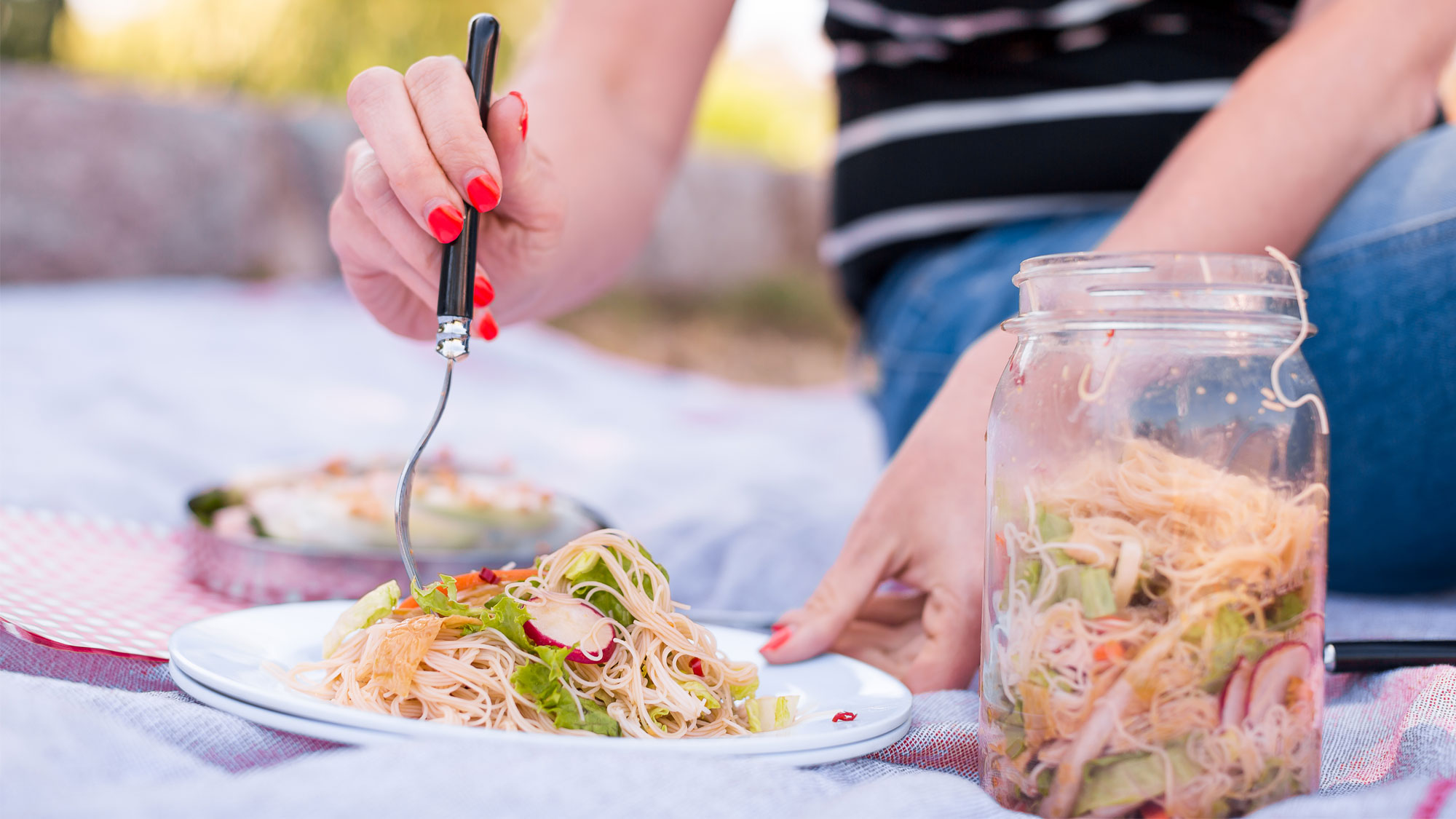 Alternatively, you can use all the same ingredients and make summer rolls to be dipped in the "fish sauce." Make these at home, wrap them tightly in plastic wrap, and then head to the beach.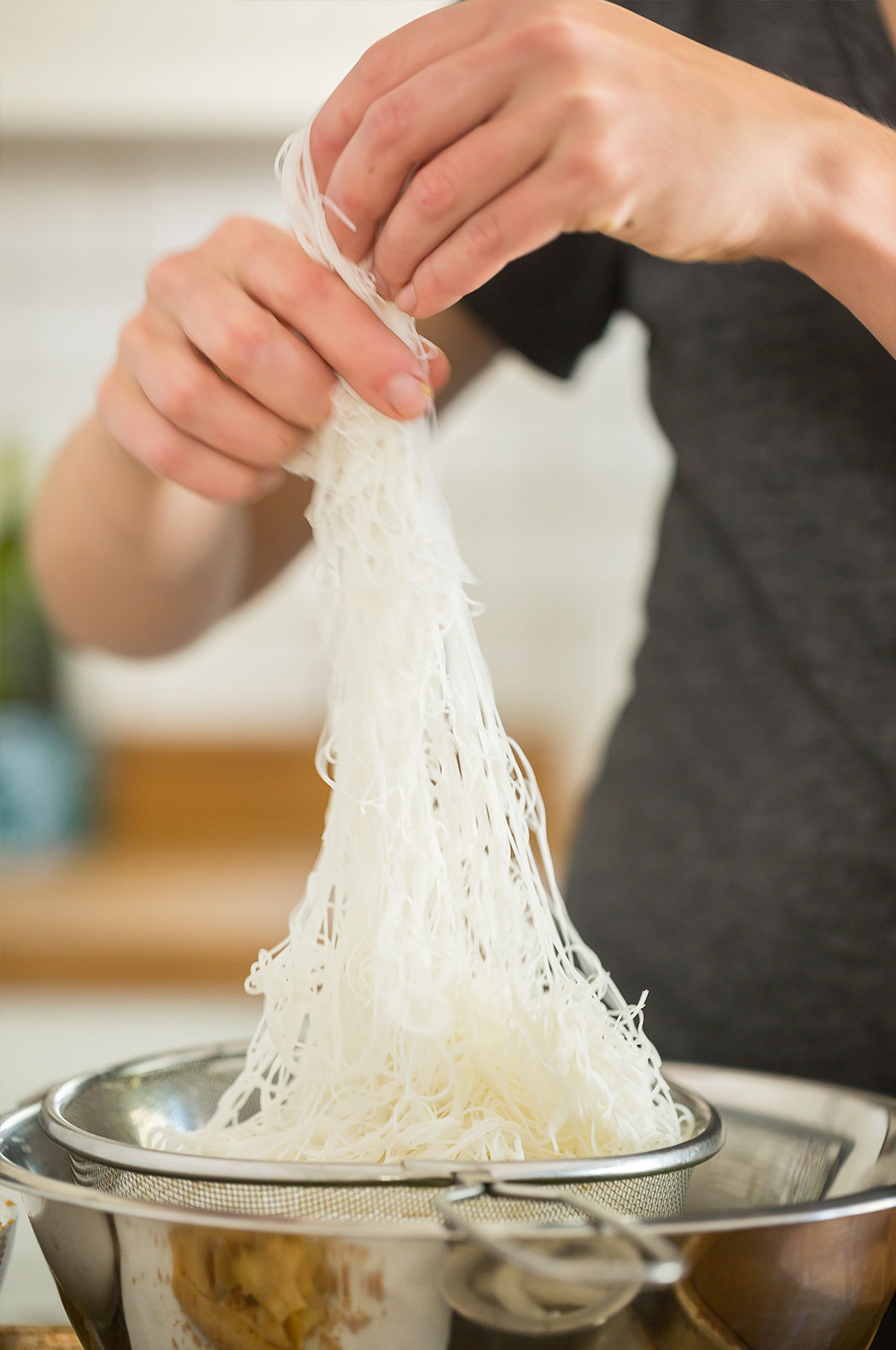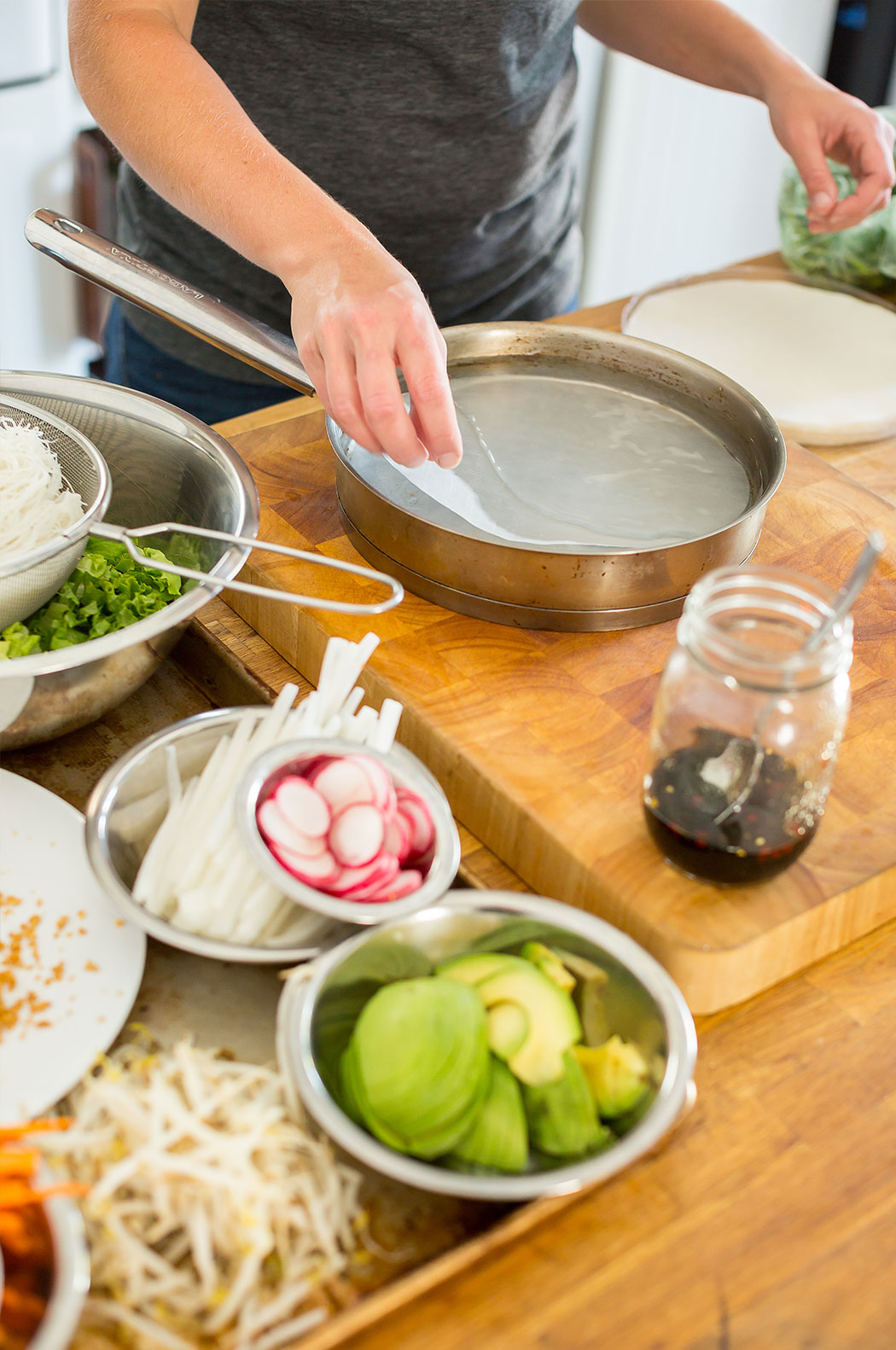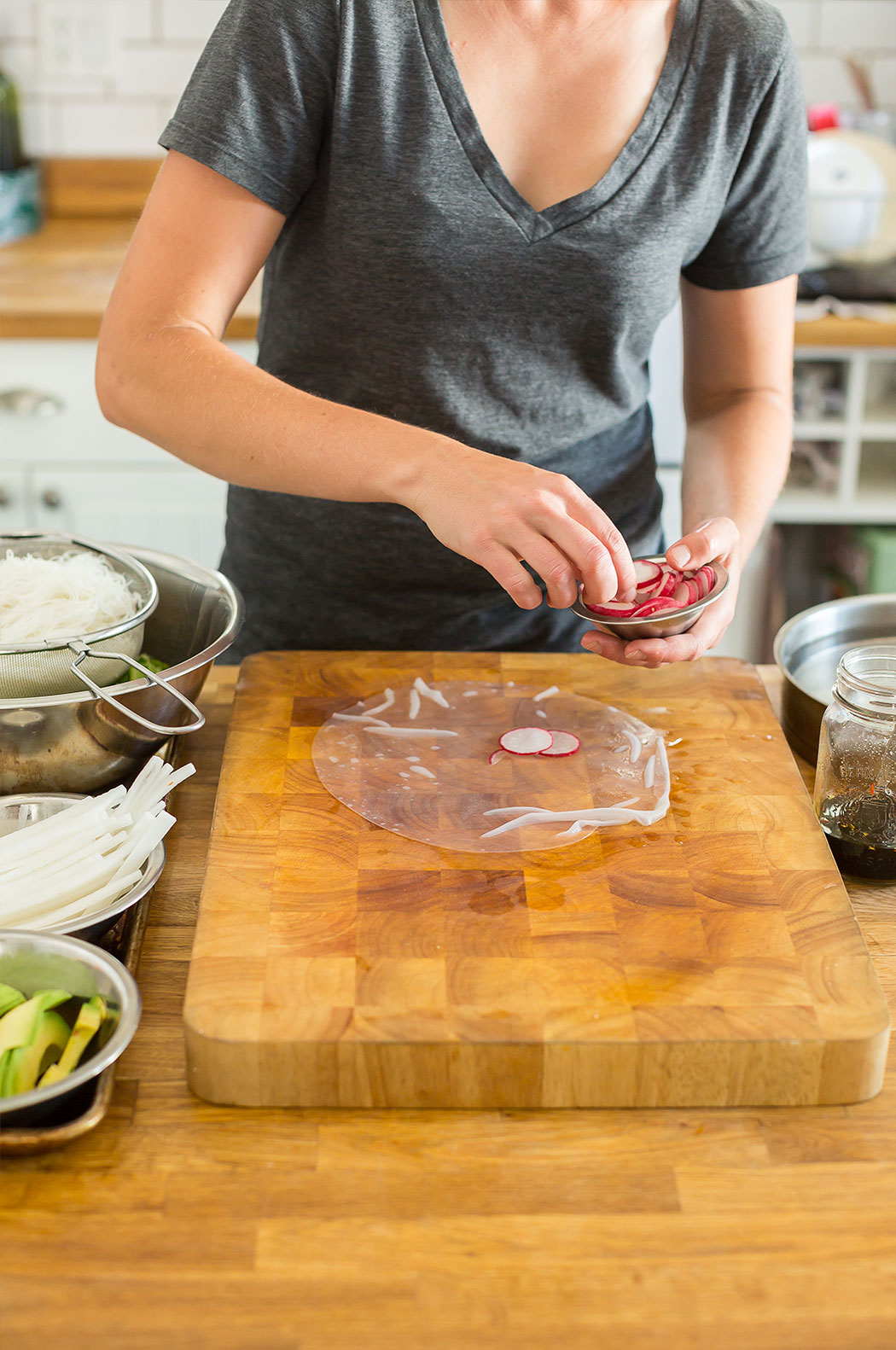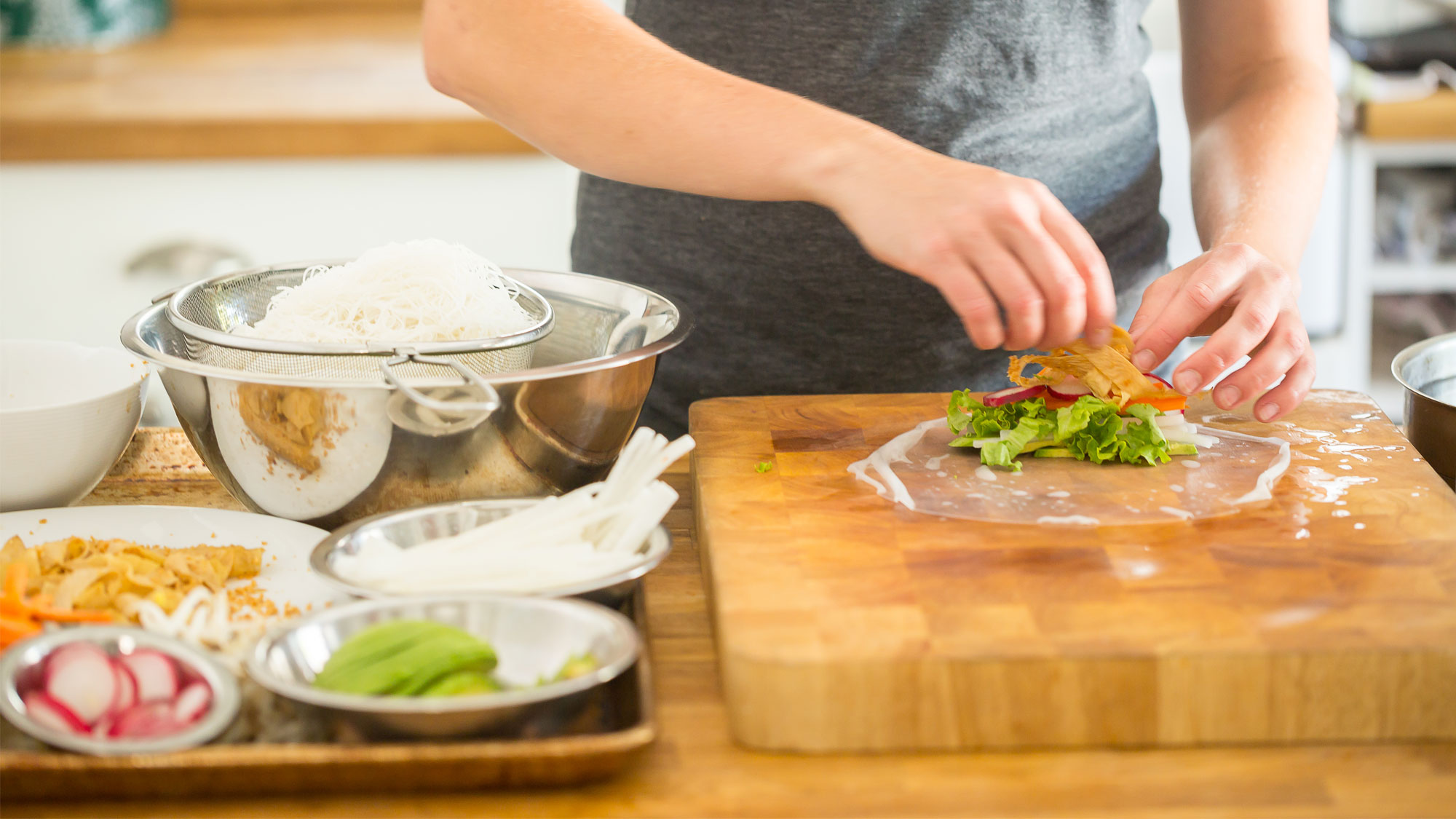 Additional Notes: *Tofu skin can be found in most Asian markets. You can find it called Tofu Skin, Bean Curd Skin, or Yuba. You'll want to make sure it is fresh and can be bent—not dry to be rehydrated.  Alternatively, you can thinly slice firm tofu into ribbons to mimic tofu skins.
Ingredients
Quick Pickle:
3/4 cup white vinegar
1/4 cup sugar
1/2 tsp salt
2 carrots, sliced
1 daikon radish, sliced
Vegan Fish Sauce:
1/4 cup lime juice
1/2 chili pepper
4 Tbsp light soy
3 Tbsp rice wine vinegar or apple cider vinegar
3-4 Tbsp sugar
Vermicelli Salad:
1 pkg (8 oz/247ml) rice vermicelli
2 cups tofu skin ribbons (fresh not dried)*
2 Tbsp soy sauce or tamari
2-3 Tbsp peanut powder (or grind 3 Tbsp peanuts in blender until they form a powder)
1-2 cups crisp lettuce, thinly sliced
1/2 cup red cabbage, thinly sliced
6 radishes, thinly sliced
1-2 cups bean sprouts
1/4 cup carrots
1/4 cup daikon
1/4 cup peanuts, roasted and chopped
Fresh herbs: cilantro, mint, Thai basil
Optional: 1/2 sliced avocado
Salad Rolls:
6-12 8.5 inch/22cm round rice paper wrappers
Preparation
Quick Pickle:

Heat white vinegar, sugar, and salt until boiling.
Cover carrots and daikon and let sit for 30 minutes. Store in refrigerator for up to 3 weeks.

Vegan Fish Sauce:

Combine all fish sauce ingredients in a jar and shake until well combined. Taste and adjust seasoning to your preference.

Vermicelli Salad:

Cook vermicelli according to package. Cool with water and set aside.
Soak tofu skins in soy sauce for 10 minutes. Drain excess soy sauce and toss in peanut powder.
To serve salad, split vermicelli between bowls and arrange vegetables, tofu and peanuts on top in piles and serve with fish sauce on the side for dressing. Alternatively, follow the directions below to make into salad rolls.

Salad Rolls:

Fill a shallow bowl with warm water. And line a cookie sheet with plastic wrap.
Dip 1 rice paper sheet in water. Make sure to get the full rice paper wet and keep submerged until just soft.
Lay rice paper on a flat surface and fill center with desired ingredients.
Fold the bottom half of rice paper over filling. Fold in both sides tightly. Pressing firmly, roll the entire roll to close. Place seam down on lined cookie sheet.
Repeat steps 2-4 for the rest of the rice paper.
If not using immediately, cover with plastic wrap tightly to avoid rice paper drying out.
Store in fridge for up to 2 hours.
Serve with vegan "fish sauce" for dipping.