Head over to the dark side and try Tess Masters' dark chocolate pudding recipe found in her new cookbook, The Perfect Blend:
"When I eat chocolate, I go over to the dark side—and by that I mean the place where rich, raw, organic cacao turns into decadent pudding. If you like dark, bittersweet flavors, this dessert may be right up your alley. If you're a milk-chocolate lover, serve it with cream, berries, and chopped almonds to cut the bitterness and balance every bite. This pudding is best consumed the day it's made, as the avocados will oxidize and the flavors will change over time. This pudding works best with ripe avocados that don't have any brown discolorations. Overripe or bruised avocados detract from the taste."
Reprinted with permission from The Perfect Blend, copyright 2016 Tess Masters. Published by Ten Speed Press, an imprint of Penguin Random House LLC.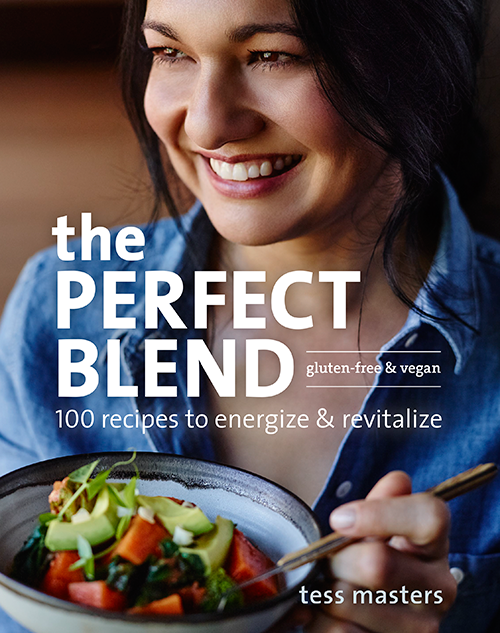 Photography copyright 2016 by Anson Smart
Ingredients
1 cup unsweetened almond milk
2 ripe avocados, pitted and peeled
1/3 cup plus 1 Tbsp cacao powder or unsweetened cocoa powder
1/2 cup plus 2 Tbsp pure maple syrup
2 Tbsp Chocolate Vega One®
2 Tbsp vanilla extract
1/4 Tbsp almond extract
1/4 tsp ground cinnamon
Pinch of salt
Cashew Cream to garnish
1 cup fresh berries of your choice, to garnish
2 Tbsp blanched slivered raw almonds, roughly chopped, to garnish
Preparation
Put the almond milk, avocados, cacao powder, maple syrup, vanilla and almond extracts, cinnamon, and salt into your blender and puree on high for 30 to 60 seconds, until smooth and creamy. (To get the creamiest texture, you may need to stop the machine and scrape down the sides of the container.)

Transfer the pudding to cocktail glasses or ramekins, cover, and chill in the fridge for at least 3 hours.

To serve, top each pudding with a dollop of cream, a few fresh berries, and some almonds.