BURNABY, BC –  Whether you need a post-workout protein shake, a pre-workout energy boost, or a mid-workout top-up, Vega Clean Protein and Vega Clean Energy are premium, clean, plant-based sources of fuel that leave you ready for anything without compromising gains. Vega  Clean Protein features 25 grams complete, premium multisource protein to help build and repair strong muscles and Vega Clean Energy is the clean, plant-based fuel you need to perform before your workout starts—and keep it going all workout long.
Vega Clean products are Non-GMO Project verified, gluten-free, vegan certified, and made without dairy or soy ingredients, artificial flavors, colors, or sweeteners so you can keep enjoying the epic crazy stuff you love, without having to choose between making gains and eating clean. When you're training for life, ready-for-anything is better with Vega Clean Protein and Vega Clean Energy.
Each serving of Vega Clean Protein contains:
25 grams protein in a complete, premium, plant-based protein blend made from pea, hemp, alfalfa, and pumpkin
All essential amino acids, including 4 grams BCAAs and 4 grams glutamine
Only 130 calories
Upgrade your protein: Shake or blend Vega Clean Protein 45 to 90 minutes after your workout.
Each serving of Vega Clean Energy contains:
80mg naturally-occurring caffeine energy boost from green and black tea
Immediate and sustained energy from functional carbohydrates
Electrolytes to proactively replenish what you'll lose in sweat
Fill your tank with premium fuel: Drink Vega Clean Energy 20 minutes before your workout—or top-up your tank mid-workout.
Product Availability
Vega Clean Protein and Vega Clean Energy are now available online and on store shelves across the United States and are coming soon to Canada online at MyVega.com. Use Vega's store locator to find a US retailer near you.   Enjoy Vega Clean Protein in delicious Chocolate and Vanilla flavors. Vega Clean Energy is available in refreshing and energizing Berry Infusion and Citrus Iced Tea flavors.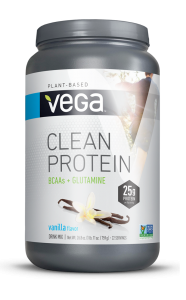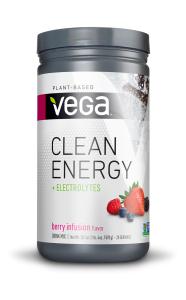 – 30 –
About Vega
Since 2001, Vega (previously Sequel Naturals) has established itself as the leader in the plant-based natural health and performance products industry. Formulated by Brendan Brazier, vegan former professional Ironman triathlete and bestselling author on plant-based nutrition, the Vega brand of nutritional products is internationally recognized. Good for your body and the planet, Vega is the clean, plant-based choice to fuel your healthy, active lifestyle—without compromise. For more information, please visit myvega.com, join Vega on Facebook at Facebook.com/vegafanpage, on Twitter @VegaTeam, and Instagram @Vega_Team.
To set up an interview or for more information on Vega, please contact:
Jaclyn Cummings, Vega PR
media@myvega.com
604-945-3133 x 361