Planting trees is one of the best ways to reduce global carbon emissions. So, over the last five years, the focus of our partnership with One Tree Planted has been donating to North American forests including British Columbia, Colorado, and California. So far, we've donated around 20,000 trees—for Earth Day 2021 we're expanding our efforts and donating 25,000 trees to two projects that are close to our heart.
That crisp breath of fresh air you take in at the end of a run. The soil you grow your food in. The water you drink. You can thank trees for that, which is why we've partnered with One Tree Planted for the fifth year in a row in celebration of Earth Day.
The fact of the matter is planting trees remains one of the best ways to reduce global carbon emissions. Through the natural process of photosynthesis, trees absorb carbon dioxide (CO2) from the atmosphere, then store the carbon in their trunks, branches, roots, and leaves. Oxygen is released back into the atmosphere as a by-product of photosynthesis—this process is known as carbon sequestration.
If we act now, we have the potential to cut CO2 in the atmosphere by up to 25 per cent (according to this study published by the American Association for the Advancement of Science).
One Tree Planted's mission is simple: to make it easy for anyone and everyone to give back and help the environment through planting trees. In the past five years, the focus of our partnership with One Tree Planted has been on donating saplings that are planted in the forests of North America, including British Columbia, Colorado, and California. We've donated around 20,000 trees over the last five years, but this Earth Day we're expanding our efforts and donating 25,000.
Who is One Tree Planted?
Founded in 2014, One Tree Planted is a non-profit organization that helps provide financial support to various reforestation partners throughout North America, South America, Asia, Africa, and more recently in Europe, the South Pacific, Australia, and New Zealand.
These partners work with local communities and partners who are knowledgeable about the local ecology to get trees into the ground and restore forests after fires and floods, while creating jobs, building communities, and protecting habitats for biodiversity.
We chatted with Christina Kozsukan, One Tree Planted's Ecosystem Manager, who has a background in environment and urban development. She says businesses can help combat climate change through tree planting, as well as by sourcing natural ingredients for our products. "Talking to businesses and those looking to make a difference has been heartwarming," says Kozsukan. "Businesses like Vega are the ones who can really make a difference—you have the profits, proceeds, and reach to make a difference and convince your customers to do something good for the environment."
This year we're sticking close to home, donating 25,000 trees to two of One Tree Planted's projects in British Columbia, Canada, and California, USA:
Around eight hours north of Vancouver in Quesnel, located British Columbia's Caribou region, is the home of One Tree Planted's Old Growth Management Project. The project is focused on reforesting the Old Growth Management Areas (areas that are protected from harvesting) which burned during the 2017 Plateau Wildfire—the largest fire in B.C.'s recorded history.
Scientists in B.C. have developed a working definition that's based on the age when the province's different forest ecosystems typically begin to develop old-growth characteristics. These include tree species, tree age, tree size, surrounding forest structure, ecological function, and historical disturbance. Typically, old-growth forests tend to have more diversity of plant and animal life than younger forests.
Without tree planting, this area would take many decades to grow back to forested conditions. Also, all the trees planted there will help provide and secure habitat for animals including moose, mule deer, black and grizzly bears, wolves, sandhill cranes, various raptors, songbirds, and other small mammals. The trees planted—Douglas Fir, Lodgepole Pine, Hybrid Spruce, and Western Larch—will also, over time, support the local water system, as it is close to wetlands that are also being prioritized. And, of course, the trees will help sequester carbon from the atmosphere.
Just outside of Redding, California in Shasta County is the site of the 2018 Carr fire—one of California's largest and deadliest fires in the last century. The fire devastated Shasta County, and the Kutras Ranch Wildlife Restoration Project will help to ensure the regrowth of 600 acres of forest. A section of it, Clear Creek, provides wildlife habitat to California pond turtles, otters, and has a wild trout stream, which will be restored through the help of tree planting.
The project will also employ several different contracting companies to get all of the work done, which they hope will have a positive impact on the local economy. Additionally, as people see the devastated area begin to regrow into a forest, the hope is that their mental well-being will improve. The trees planted—Douglas Fir and Ponderosa Pine—are native species which inhabited the site before the fire, and will provide soil stability and erosion control, as well as sequester carbon from the atmosphere.
How far does $1 go?
You may ask, how does just $1 or one tree make an impact? The average mature tree is capable of sequestering 48 pounds of carbon each year. One Tree Planted's reforestation projects are planting trees that will clean the air we breathe for years to come.
We all know that the climate crisis is big and it may sometimes feel as though one tree won't make much of a difference, but it does. Putting all those trees together creates forests to benefit people, the climate, nature, and wildlife for years to come.
One Tree Planted outlines the impact of every dollar donated in this helpful diagram: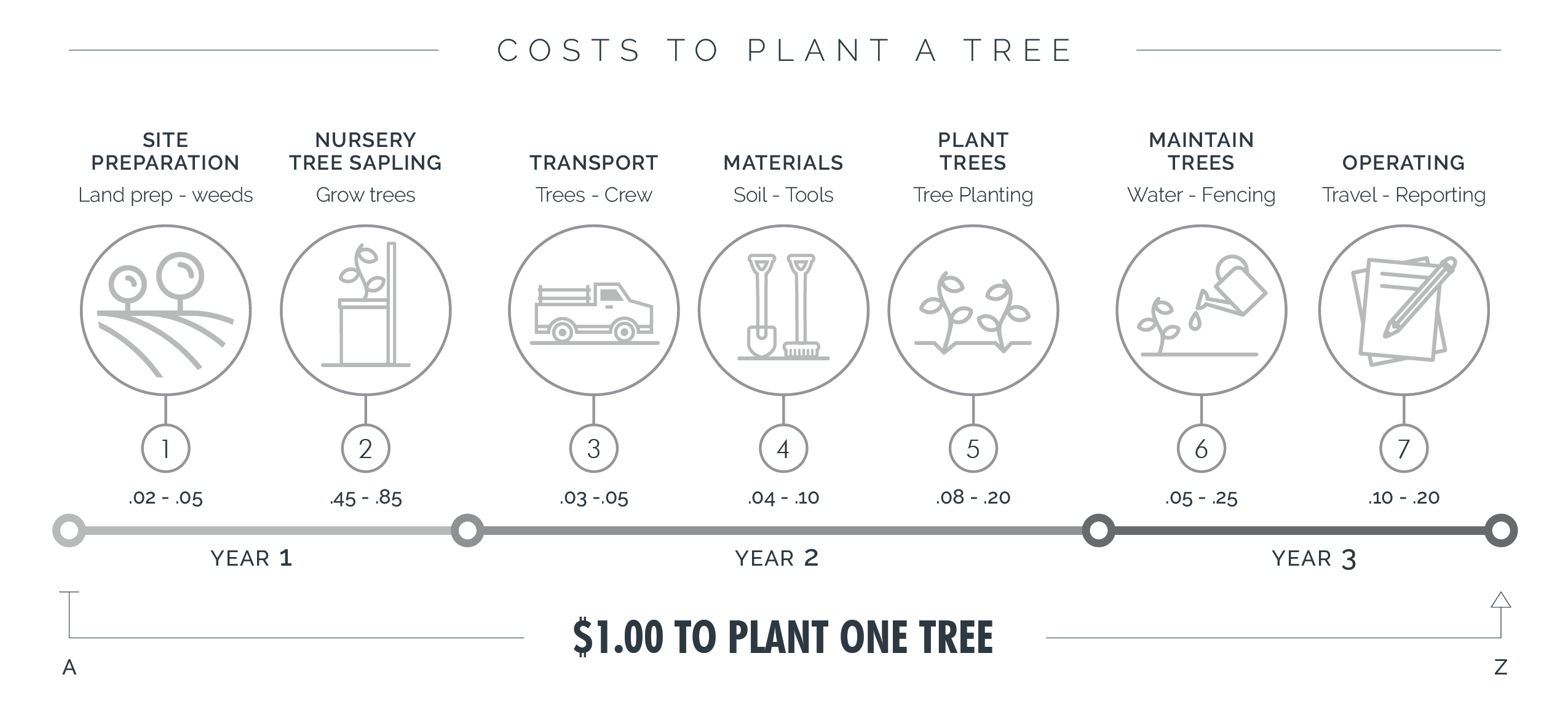 Side note: In case you're wondering what kind of impact Covid-19 has had on One Tree Planted's projects throughout the pandemic—tree planting is an essential service, so for the most part it has been business as usual. There were some delays, and a lot of restrictions in certain regions on who could come and go from the tree planting camps due to border restrictions, including Canada.
Looking to get involved in tree planting? One Tree Planted is hosting a series of events all over North America throughout Earth Month 2021—spots are filling up quickly since people are eager to do things and numbers are restricted due to Covid-19 protocol.
Stay tuned for more Earth Day content—we have four delicious plant-based meal plans for you to try throughout the week. 
Meal Plan #3 (soon)
Meal Plan #4 (soon)