If you've ever thought "this bloat got me lookin' so crazy right now" then these recipes might be for you. I'm sure we've all experienced it—a physically uncomfortable feeling of a swollen belly, feeling full up to your throat or not been able to button pants that fit you this morning. That's bloat and it can be caused by a number of factors from artificial sweeteners to sensitivity aggravating ingredients to certain combinations of foods. This feeling can affect more than your waistline. It can be uncomfortable and may even affect your mood. Bloating happens, but the good news is that there are foods you can incorporate to beat the bloat. Next time you feel bloated consider one of these recipes for your next meal. Or better yet; incorporate some of the foods below to help ward off the bloat before it starts.
Miso is a fermented favorite of mine that contains probiotics (or good living bacteria) that aid with digestive health. Probiotics help to promote healthy intestinal flora which can help to keep things running smoothly and bloat-free.Hemarajata P, Versalovic J. (2013). Effects of probiotics on gut microbiota: mechanisms of intestinal immunomodulation and neuromodulation. Therapeutic Advances in Gastroenterology, 6(1),39-51 Accessed on 6/4/13 from http://www.ncbi.nlm.nih.gov/pmc/articles/PMC3539293/pdf/10.1177_1756283X12459294.pdf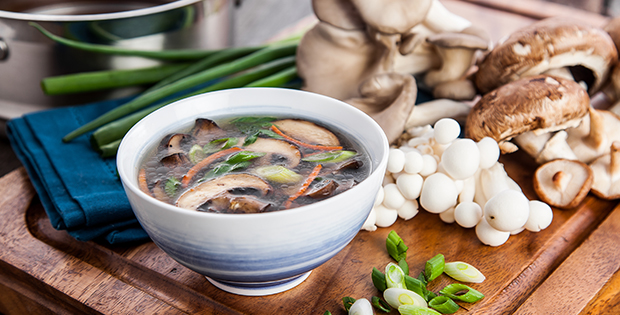 Where else can you find probiotics?
You can find probiotics in other fermented foods such as yogurt, kombucha and kimchi. For a maintenance dose of probiotics try Vega One® Organic All-in-One Shake, it makes a delicious, nutrient-dense addition to your morning smoothie and offers 1 billion CFU probiotics.
This fiber-rich pudding can be enjoyed for breakfast or as a snack any time of day. Fiber helps move food through your body which can aid in better digestion. If food has a slow transit time through your GI tract there is more likelihood the food will ferment, which may cause gas and bloating.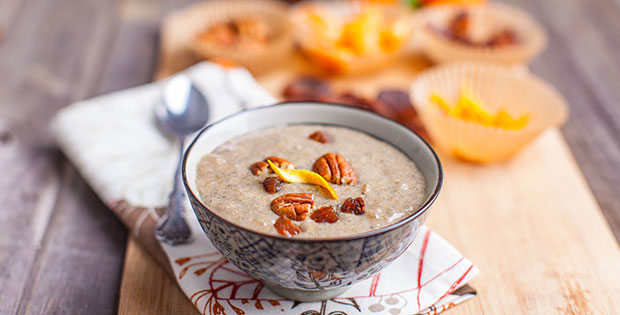 Where else can you find fiber?
Incorporate both soluble and insoluble fiber into your diet by including foods like chia seeds, leafy greens, berries and nutritional supplements such as Vega One® Organic All-in-One Shake which has 6 grams of fiber per scoop (A.K.A 24% of your recommended daily intake).
I love this morning smoothie all year because it includes pineapple. Pineapple and papaya are two of my favorite enzyme-rich foods because they're natural sources of bromelain (a protein, fat and carbohydrate-digesting enzyme) and papain (a protein-digesting enzyme) respectively.  Digestive enzymes help you to, well, digest. Incorporating more enzyme-rich foods can be beneficial if you suffer from bloating as they aid in efficient digestion.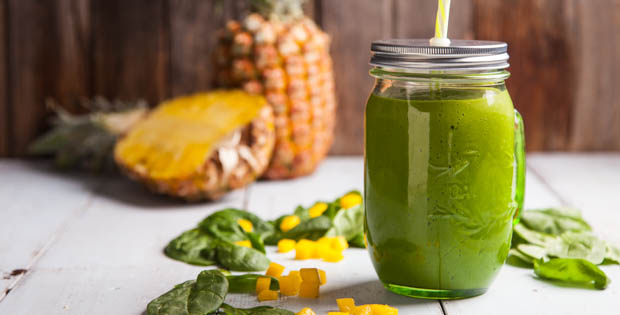 Where else can you find digestive enzymes?
You can also opt for a digestive enzyme supplement. These can be beneficial with the holidays around the corner where big meals and holiday events are in your future (hello Thanksgiving dinner). Vega One® and Vega Sport® Premium Protein both contain a digestive enzyme, and Vega® Protein Smoothie contains papaya extract (a source of papain).
I love this salad for beating the bloat because it contains the leafy green arugula, which is a good source of magnesium United States Department of Agriculture. National Nutrient Database for Standard Reference: Arugula. Accessed 9/2/14 from http://ndb.nal.usda.gov/ndb/foods/show/3603. Magnesium is a mineral that aids in proper muscle function (including the ones in the intestinal walls). The salad dressing also includes turmeric, which has been used traditionally, in Ayurvedic medicine, to manage inflammation.Health Canada. (2010). Natural Health Product Monographs: Turmeric. Accessed on 9/30/14 from: http://webprod.hc-sc.gc.ca/nhpid-bdipsn/monoReq.do?id=216&lang=eng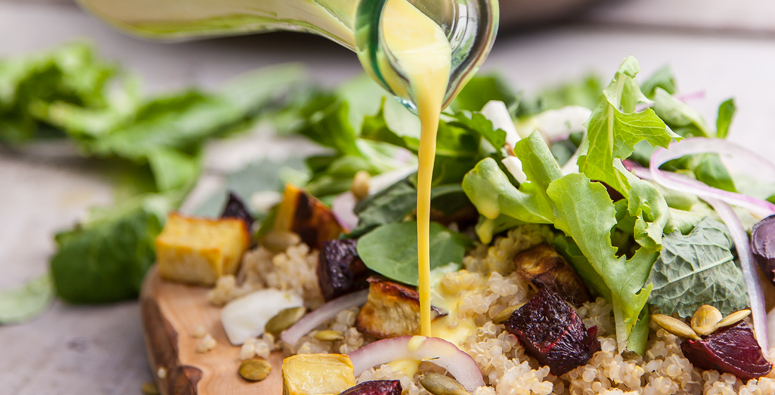 Where else can you find magnesium?
Find magnesium in other green leafy vegetables such as spinach, kale and chard, as well as nuts and seeds such as Brazil nuts and pumpkin seeds.
Even when the weather starts to get cooler and I'm eating more cooked foods, I still incorporate smoothie and juices for a nutrient boost to my day. This juice can help beat the bloat with ingredients such as celery. Celery contains a high amount of water and it's also a source of potassium United States Department of Agriculture. National Nutrient Database for Standard Reference: Celery. Accessed 9/2/14 fromhttp://ndb.nal.usda.gov/ndb/foods/show/2950. In conjunction with other electrolytes such as sodium and magnesium potassium helps you say good-bye to water retention and bloat by maintaining fluid balance in the body.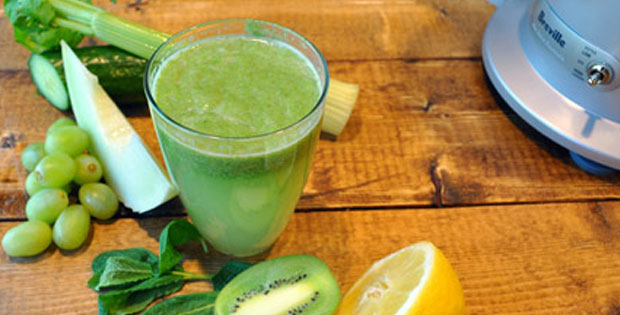 Where else can you find potassium?
Find potassium in strawberries, bananas and kiwis.
What are your go-to recipes to avoid bloating?