The Outpost
noun | ˈoutˌpōst/
1. a settlement found in a remote location

2. a shelter from the wilderness; a place to rest

3. an establishment filled with the supplies needed for an epic journey

4. a place to leave the things you don't need anymore
This October, four Vegatopians and 14 fellow explorers set out on an adventure together. We named this inaugural experience The Outpost, because each of us would need to take an epic journey into the unknown with a group of strangers, connected together through our shared passion for plant-based nutrition. We would need to travel to the Nimmo Bay Resort located in the Great Bear Rainforest in northern British Columbia. Traveling in airplanes and helicopters, busses and boats, we would gather in this remote location for three days. All of us willing to connect with each other and share our personal experiences about what it is to live an amazing life.
I believe that living an amazing life is about more than just good nutrition and fitness. Getting the most out of my life means having a holistic outlook and approach to wellness. Being conscious of my body and mind, my community, and my planet, are all essential ingredients in feeling my best and getting more out of every day.
The Outpost was designed around four pillars – four principles (Unite, Sweat, Nourish, Guide) that we at Vega feel are essential to living an amazing life. These pillars not only helped to guide our experience, but also taught us some important lessons. Here are four lessons that I left The Outpost with:
LESSON #1: DISCONNECT TO CONNECT
I believe being amazing, feeling amazing, and living amazing means investing in our relationships. I've learned that if I'm  trying to deepen my relationship with family, friends, community, or the planet, I sometimes need to completely disconnect and be in a place with few distractions so that I can focus on being truly engaged.
In a world filled with a never-ending torrent of commitments and notifications, we wanted The Outpost to be a place where we could all disconnect from the hectic pace of everyday life. Our first pillar, Unite, represents our belief that authentic relationships are built through true engagement with each other. Mutual respect, an open ear, and an open heart for one another, are easier to find in the natural spaces away from cellphone towers and wifi service. Next time you're feeling disconnected, try spending some quiet one-on-one time with a loved one, cellphone free!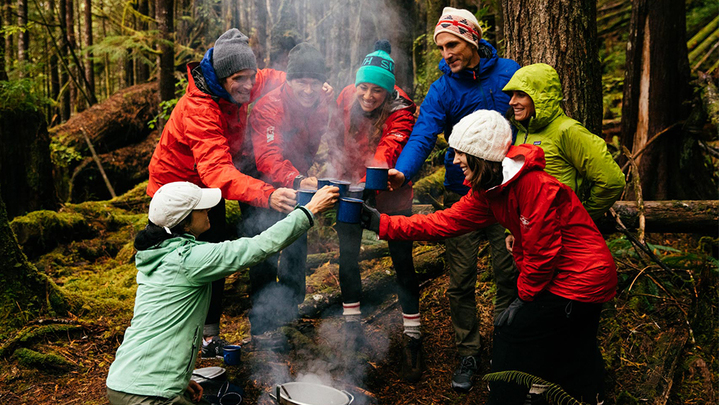 Credit: Jeremy Koreski
LESSON #2: MOTION IS EMOTION
Morning meditations and 2 PM squats, along with our daily lunchtime bootcamps and yoga classes, are all part of what make working at Vega so special (and occasionally, so sweaty). Exercise is an essential ingredient in how we connect as a team and we love including anyone who visits our office in the fun.
We wanted physical activity to be a key part of The Outpost, so we fondly dubbed our second pillar, Sweat. We greeted each morning with yoga classes or bootcamps and plyometrics led by Brendan Brazier. In the afternoons we did stand-up paddleboarding, breath workshops, or hiked through one one of the world's pristine untouched rainforests, towering hemlocks and ancient cedars keeping us dry. Some even braved the cold glacial waterfall or a quick dip in the ocean.
The result, laughter, shared experience, and stronger connections.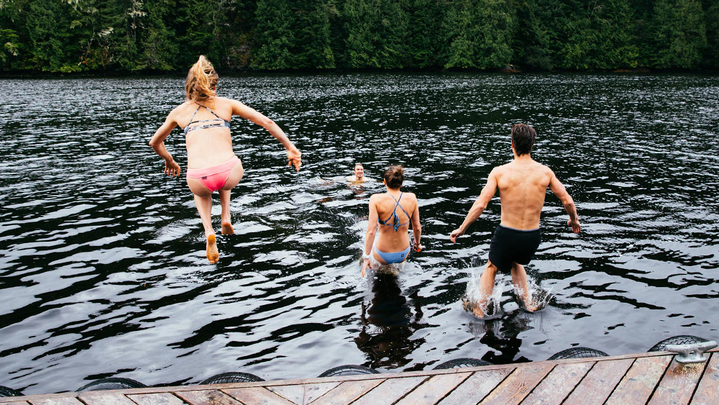 Credit: Jeremy Koreski
LESSON #3: STAY CURIOUS ABOUT YOUR CUISINE
Three of my favorite hobbies are traveling, gardening, and eating, so no matter which continent I find myself on, I always sample the local plant-based cuisine. I ask a lot of questions of the locals to find out how their food is prepared, and how the ingredients are grown and sourced. I have found that the history and culture of a place is often intrinsically tied to the plants that have been harvested or cultivated there.
Nimmo Bay has a rich history of people living off the land. First Nations and family tradition are deeply rooted there, and we wanted to share these stories with our guests through delicious food. Besides, no Vega gathering is complete until we've all had an incredible plant-based meal together. We truly believe food can bring people together and nourish them completely – especially when that food has been created using local, sustainable plant-based ingredients, and a lot of love! This is why Nourish was one of the pillars for The Outpost. From smoothies, to soups and stir-frys, each meal was thoughtfully prepared, considering maximum deliciousness and minimum impact on the environment.
Recipes from The Outpost
LESSON #4: FIND & FOLLOW YOUR PERSONAL GUIDANCE SYSTEM
I believe in people. I believe that we all have passion and the potential for greatness. I also believe that we each have a personal guidance system, an inner voice, a spiritual compass that can help us find our way when we're feeling lost, confused, or stuck. I've learned that to get familiar with your personal guidance system, you need to get familiar with yourself. When we know ourselves better, we can support our needs and the needs of others.
A couple weeks before The Outpost, we sent each of the guests a handmade compass engraved with the coordinates of Nimmo Bay. These compasses served as a powerful metaphor for our final pillar, Guide.
You see, we wanted to prepare our guests for two things. First, we asked them to join us in conversations and workshops created to help steer the future of the plant-based industry. Secondly, we wanted to give them the tools to navigate their personal and professional challenges better. Through the gift of this truly special experience we hoped to help positively impact their future projects and their communities, all across North America. 
We are each influencers and thought leaders. We can each experience The Outpost in our own lives by finding ways to guide, sweat, nourish, and unite with those we love. It doesn't matter how many followers you have on social media, or how many awards you've received, we can each create impact in the world and can be positive role models. The Outpost taught me that every day presents  an opportunity to empower the people around me to feel (and perform) better. That feels like a tremendous gift, and I don't want to ever take that for granted.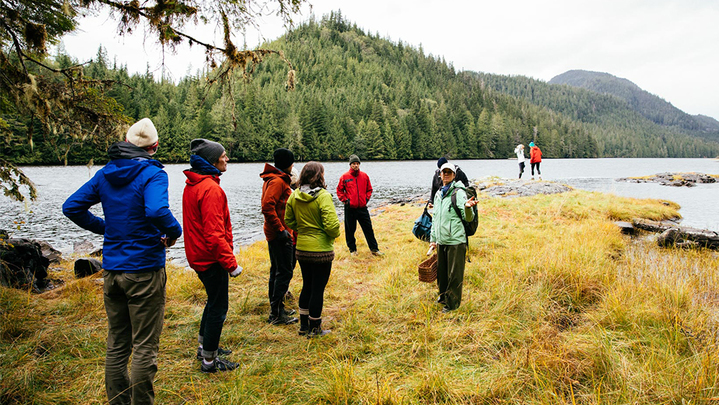 Credit: Jeremy Koreski