The moniker of "The Fastest Growing Sport in the World" is often used to describe stand up paddle boarding or SUP. While I am not sure that we have the data to make that statement quite yet, I do know that SUP is going mainstream. I recently saw a commercial on TV for a well-known multivitamin company that featured SUP for the entire 30 second commercial. The main reason for the growth is the simplicity of the sport. All you need is a paddle, board and water. In fact, it's not as difficult as many people seem to think.
SUP 101
So if you have never paddled before, where do you start? I highly recommend that you take a lesson from a certified instructor; they will show you tips and tricks that will make your learning curve a lot shorter. If you are one of those adventurous people that want to learn on your own, here are a few tips that will help you learn a little quicker:
Keep safe by wearing a lifejacket.
Use the right equipment. That means get an adjustable paddle so you can find the paddle size that works for you and purchasing a board that has enough volume to float you for the conditions.
Once you are paddling, make sure you keep your board moving. Boards are similar to bicycles; they are more stable when they are moving.
As you paddle, make sure to keep your vision focused on the horizon. We get about 80% of our balance from our vision and when it is focused on a fixed object on the horizon you will have better balance on the board.
Next Level SUP
Now that you are an expert, you can utilize your skills for the many different aspects of SUP. The versatility of SUP and the fact that you can paddle anywhere that there is water allows for many different uses. SUP has its roots in surfing, so obviously you can paddle in the waves. One of the fastest growing segments is white water SUP-ing. Yes, people are taking inflatable SUPs down class 3, 4 and even 5 rapids.
SUP racing has quickly established itself over the last five years and has really pushed the envelope when it comes to equipment design. Racing — along with surfing — has opened the door for the professional SUP athlete. SUP has a growing population of professional athletes, whose only job is to paddle. The biggest segment of SUP right now and into the future is recreational and fitness paddling. It is a fun way to get exercise and get outside. You can burn calories and have fun at the same time. You might just cancel your gym membership!
No matter where you live, most likely you are within an hour driving of some form of water. So before you quit your job and devote your entire life to becoming a professional SUP athlete, let's go paddle and enjoy the rest of the summer first. See you on the water.
About Brody Welte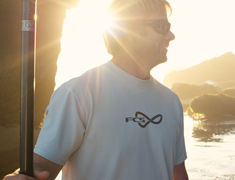 Vega Ambassador, Brody Welte is a full-time paddle coach, athlete and creator of PaddleFit. PaddleFit is the largest stand up paddling (SUP) coaching system and has been featured in magazines like Shape, Fitness, and Self. Brody's main focus is introducing new people to the sport of stand up paddling, launching new stars with PaddleFit and pushing professional athletes to the next level. www.paddlefitpro.com
Facebook: https://www.facebook.com/paddlefitpro
Twitter: https://twitter.com/paddlefit
Instragram: http://instagram.com/paddlefit