Despite the seemingly vast differences, whether you're vegan, paleo, plant-based or primal (or you're one and your partner another), there are plenty of opportunities for harmony in the kitchen. My own home represents the realities of finding this common ground, and while it would seem like meal time is a headache, let me show you a day on our plates, and how it's possible.
Similarities and Differences between Vegan and Paleo Diets
If I had to label it, I eat a predominantly plant based diet, Pescatarian on occasion. Meanwhile my husband chooses a diet that more closely represents "paleo" or "primal", including animal sources of protein and fat, and (for the most part) de-emphasizing legumes, and grains.
While "vegan" foods are easily defined (foods which don't contain ingredients made from animal sources), in contrast there are fluctuating definitions for the paleo approach, based on the individual. Some will choose to include whole food sweeteners (such as maple syrup), others will define it as the avoidance of grains, legumes and sugar entirely (referencing the traditional diet of our early ancestors).
Before you shake your head and give up—overarching practices for both the paleo approach and a vegan or plant-based diet include whole foods as the foundation, which truly opens up so many possibilities in the kitchen.
I made the chart below as a means of easily identifying general preferences (by no means exhaustive), and crossover foods. Within the foodie community, I've seen this crossover beginning to be labelled as a "Pegan" approach, or "Plant-Paleo". This could be useful context in picking recipes and meal planning if you find yourself in a mixed-diet household too.
| | | |
| --- | --- | --- |
| | Vegan or Plant-Based | Paleo or Primal |
| Whole foods | | |
| Fruits and Veggies | Yes | Yes |
| Nuts and Seeds (including oils and butters) | Yes | Yes |
| Legumes, Beans and Grains (including soy products and  pseudograins) | Yes | No |
| Animal Products | | |
| Meat & Eggs | No | Yes |
| Dairy Products | No | Typically not included |
| Sweeteners | | |
| Stevia | Yes | Yes |
| Maple Syrup | Yes | Sometimes included sparingly |
| "Other" Syrups: Tapioca, agave, sorghum, brown rice syrup  etc... | Yes | No |
| Honey | Typically not included,  depends on the  individual | Sometimes included sparingly |
| Granulated sugars including coconut palm nectar, and white  sugar | Inclusion of white sugar depends on the individual | No |
| Sugar alcohols (xylitol, erythritol etc) | Yes | No |
| Vega Products | | |
| Vega One® All in one Shake | Yes | Optional: those looking for plant-based,  high protein, grain-free, and no sugar  added option |
| Vega Sport® Protein | Yes | Contains sprouted whole grain brown  rice protein |
| Vega® Protein & Greens, Vega® Protein Smoothie | Yes | Contains sprouted whole grain brown  rice protein |
| Vega Sport® Pre-Workout Energizer or Vega Sport Sugar-Free  Energizer | Yes | Sugar-Free Energizer |
| Vega Sport® Electrolyte Hydrator | Yes | Yes |
| Vega Sport® Recovery Accelerator | Yes | No |
| Vega Sport® Protein Bar | Yes | No |
| Vega® 20g Protein Bar | Yes | No |
| Supplements: Vega® Chlorella, Vega® Maca, Vega® Omega Oil Blend | Yes | Yes |
Note that in a vegan  lifestyle you can still include many different types of sweeteners, which indicates just because a food is vegan, doesn't make it healthy, or nourishing. As with any dietary approach, whole foods should always be the foundation to ensure you are making health promoting choices and building a strong  nutritional foundation.
As my own home represents the realities of finding common ground between a plant-based approach and more primal one, I documented a day on our plates below, for some shared meal planning inspiration.
7AM
A super simple option for breakfast is chia puddings (a grain-free go-to instead of oatmeal, with a more gelatinous pudding-like texture). This morning I made a version with cacao powder and cacao nibs. Find more chia  pudding recipes here.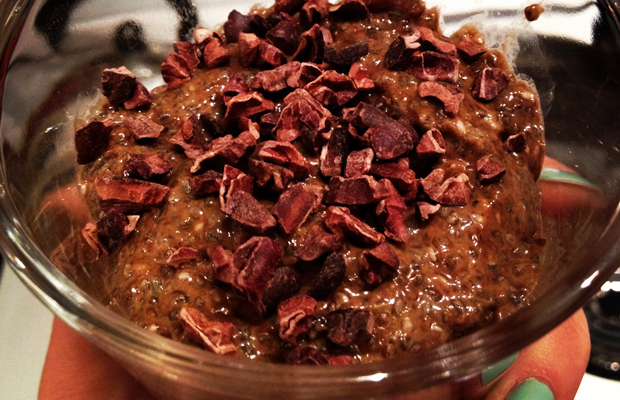 Food prep tip: Place the seeds to soak overnight (and prep a few servings in Mason jars for throughout the week). Each morning add your choice of fresh or frozen fruit, alongside boosters like protein powders, superfood powders (such as maca, cacao, or matcha green tea), and other nuts and seeds.
In a plant-paleo household you will find your diet includes ample nuts and seeds both as a common protein and fat source. Good thing they are incredibly nutrient dense! Keep your portions in alignment with your personal health goals (gaining/building, or leaning/lightening up). Include a wide variety to keep things interesting.
9AM
Smoothies, much like chia puddings can be rotated in for breakfast or mid-morning snacks. Full of whole foods, and an easy way to sneak in added greens. The addition of protein powder is optional, but can be a really valuable (and highly customizable) way of meeting your personal protein intake goals.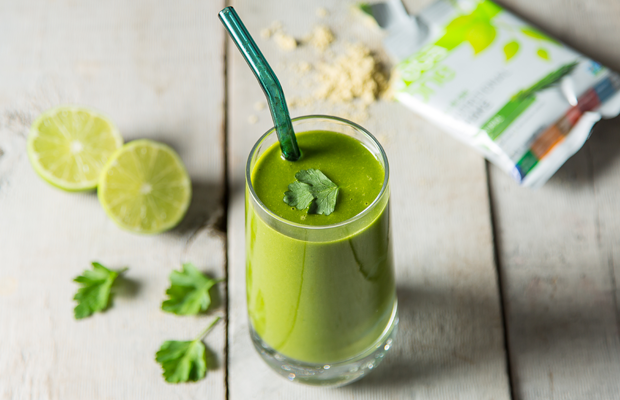 Food prep tip: Blend a base of fruits, liquid, and added greens first, then separate into two glasses. Re-blend each serving separately with each person's protein of choice (it really only adds a minute to your prep time). I use Vega One® All-in-One Shake, and encourage it as a nutrient dense, high-protein option for those choosing grain-free diets with no refined sugars.
Today I made an iron-rich smoothie from our Vega Recipe Center.
11:30AM
If I am not out in the community teaching and educating, I am lucky to be able to work from home unless at the Vega head office for meetings. I find soups and salads to be the quickest prep.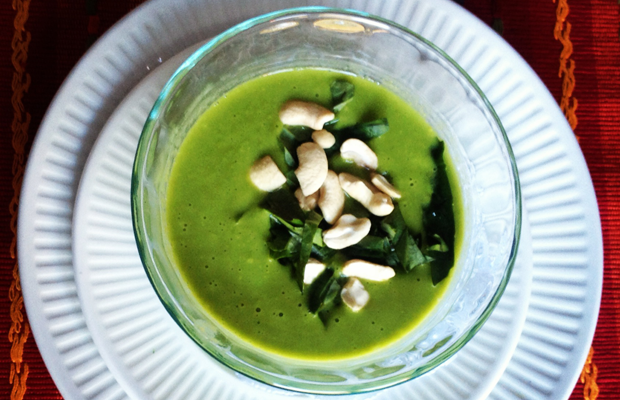 Food prep tip: Use up limp veggies in the fridge with a blended coconut cream soup. The limpness is from lack of moisture, so I like to lightly steam them with a clove of garlic (and/or onion). Add the veggies plus broth to a high power blender along with full fat coconut cream, spices (like jalapeno), and optional avocado (for added creaminess, chlorophyll, and vitamins). You can reheat the blended soup, or eat as is. Top with nuts, and extra steamed greens if you like.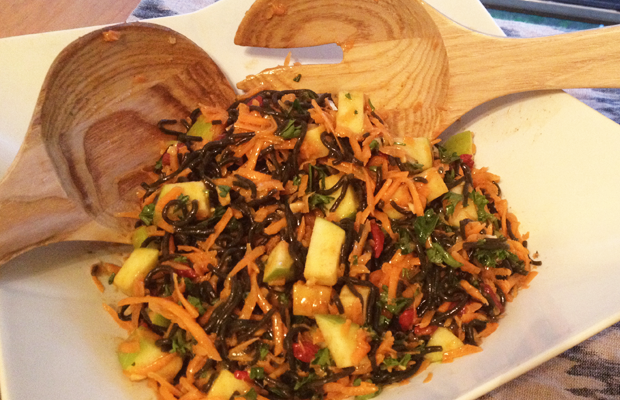 Today's salad was leftovers from dinner last night, as it kept well in the fridge. A seaweed salad made with a base of kelp noodles, arame seaweed, shredded carrot, diced apple, red peppers, and goji berries. Toss in your favorite dressing. If you're new to seaweed noodles, check out one of our fav food blogger (Choosing Raw) and her post on Kelp Noodles.
3PM
When mid-day munchies hit, I often try and rehydrate first because commonly we are thirstier than we are hungry. By ruling out thirst, you can often get a better assessment of what your body is really craving. I like to rehydrate with fresh pressed juices, today's from local fav the Juice Truck. Pair it with a serving of mixed nuts, seeds and dried fruit.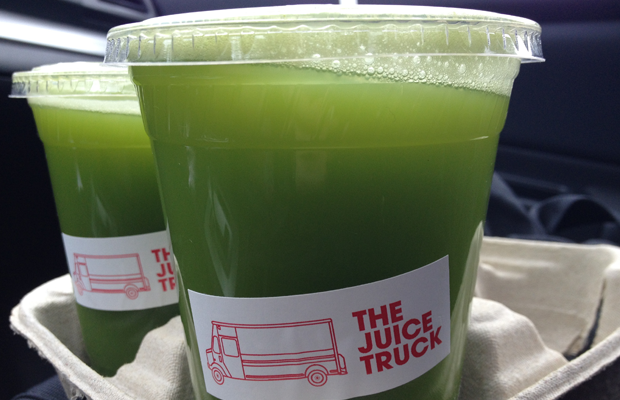 5PM
If you're not eating until later (often the case for my hubs and I, being more night owls than early worms), you might want to have a second afternoon snack for "happy hour" to tide you over, and ensure you make better choices for dinner (not driven by a growling belly).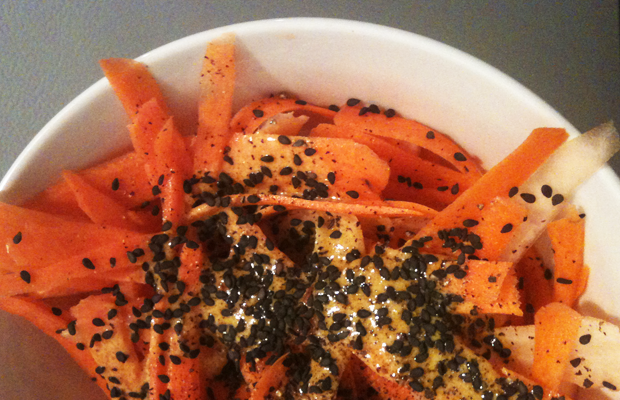 I made a quick plant-strong salad, with shredded carrot, and almond butter dressing thinned into a pourable texture with water (or use vegetable broth), and topped with sesame seeds (you can boost it with extra hemp hearts too). I paired it with a virgin mojito (green tea, fresh lime and mint), or try Vega Sport® Electrolyte Hydrator for a caffeine-free alternative (can mix with 1/2 -1 teaspoon Vega® Chlorella powder).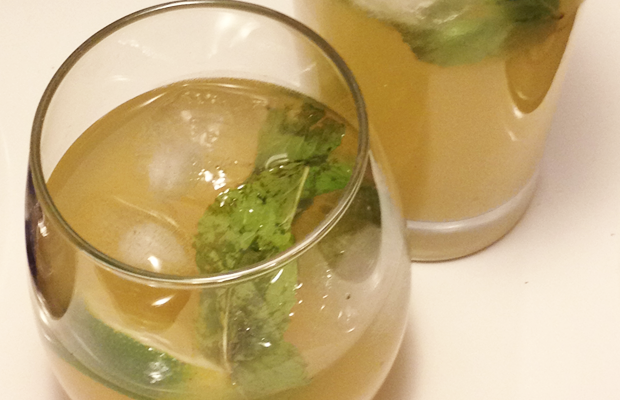 7PM
I find the easiest dinners involve a base of vegetables (hearty, cruciferous, or leafy green, all are fair game), topped with each person's protein of choice. Tonight I made a base of spiralized zucchini noodles with a cauliflower alfredo sauce, and we each added a grilled/baked burger patty of our choice, cut into strips (for plant-based eaters, I recommend looking for Hilary's Eat Well).
Whatever your food choices, or how the different members in your household eat, as you've seen through a day on my plate I am confident we can emphasize fresh, whole foods, and minimally processed options, without compromising on flavor, variety, satisfaction (or our relationships!).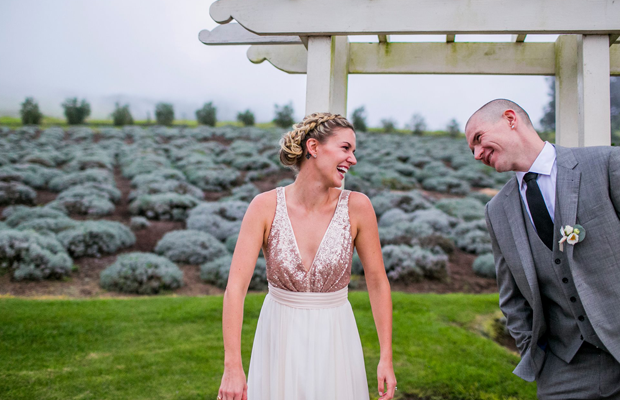 How do you balance the different dietary preferences in your home?