gluten-free grain-free diet
Gluten-free and plant-based living are no longer just trends, but rather mainstays in the health landscape. More recently you may have noticed grain-free products and resources beginning to catch on like wildfire. This is fueled in large part by the increased popularity of a paleo or primal diet (which includes the avoidance of grains). If you've been exploring any of these dietary preferences yourself, I get it...initially, it can seem limiting. Removing what were previously staple foods from your weekly rotation might have you feeling like you're missing out, but finding a few new go-to recipes and staple foods, can mean the difference between feeling limited or liberated by your diet.
Is grain-free the new gluten-free?
Sensitivity to foods containing gluten is becoming more and more common, with an increasing number of us trying out an elimination diet, to see if it's connected to various symptoms, most commonly digestive related (bloating, indigestion, acid reflux, cramping etc.). The reasons for removing gluten and grains from your diet vary as much as the individuals pursuing it.
The National Foundation for Celiac Awareness indicates as many as 18 million Americans may be affected by gluten sensitivity (non-celiac), and 1 in every 133 Americans has celiac disease (an auto-immune disorder triggered by the ingestion of gluten), yet 83% remain either undiagnosed or misdiagnosed National Foundation for Celiac Awareness. Celiac Central. Accessed April 13th 2015:http://www.celiaccentral.org/non-celiac-gluten-sensitivity.
With more and more people interested in grain- and gluten-free diets, expect to hear and see a lot more buzz around the grain-free and gluten-free foods in an effort to expand awareness for those who may benefit.
Gluten and Grain-free substitutions
While there are some gluten-free grains (such as quinoa, teff and rice), many choosing to adopt a paleo or primal way of eating may avoid grains altogether. Everyone's body responds differently to changes in the diet, so I encourage listening to the cues from your body, both positive and negative, as you make tweaks to your intake. Work with a specialized health care practitioner for individual support.
These are some of my favorite substitutions when "free style" cooking (without a recipe) at home.
| | | |
| --- | --- | --- |
| Common Gluten and Grain Containing Foods | Gluten-Free Substitutions              | Grain-Free Substitutions (also gluten-free) |
| Flour | Gluten-free flour mix | Almond or coconut flour |
| Breadcrumbs | Ground up gluten-free crackers | Shredded coconut, or ground almonds |
| Pasta | Rice pasta, or quinoa | Kelp noodles, or zucchini noodles (make at home with a spiralizer) |
| Crackers, Chips | Gluten-free crackers, rice crackers, tortilla chips | Kale chips, root veggie chips, slices of cucumber, zucchini, or "raw" crackers made with seed and veggie pulps (such as Brad's Raw Chips) |
| Wheat berries | Rice, quinoa, amaranth, teff | Shredded cauliflower, broccoli or other cruciferous veggies (pulse in the food processor, works well for stir-fry), or use a combination of ground almonds and finely diced carrots (hearty "hash") |
| Oats | Certified gluten-free oats | Chia seeds (use the ground seeds as a binder in baking, or whole seeds in puddings instead of porridge) |
| Protein powder blends with brown rice protein (grain containing) | All Vega® products are gluten-free | Vega One® is gluten-free and made without grains.  It does not contain brown rice protein, and is made instead with pea protein, flaxseed, hemp protein and sacha inchi protein. |
Grain-Free and Gluten-Free Recipes:
Beeakfast Recipes
Going grain-free and gluten-free means some traditional breakfasts like cereal, or wheat flour-based baked goods like muffins, pancakes and scones may be out the window. Your taste buds and energy certainly don't need to suffer however, and there are plenty of options to reach for, even when time is crunched.
1. Tropical Almond Milk Yogurt Parfait
3. (Savory) Kohlrabi Pancakes (swap brown rice flour for coconut flour)
*Did you know: Vega One® All-in-One Shake is made without any grain-based protein sources (such as brown rice). Instead each serving has 20 grams protein from a multisource blend of pea protein, flaxseed, hemp protein and sacha inchi protein.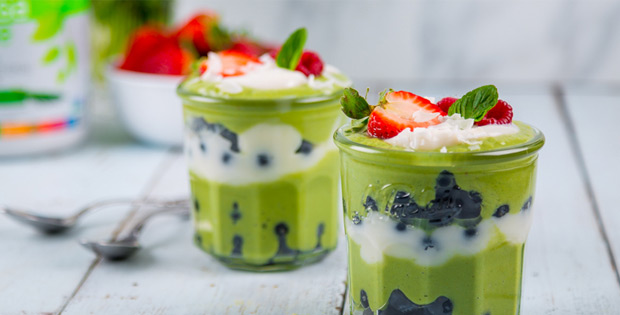 Snacks
Simple trail mix combinations (nuts, seeds and dried fruits) make convenient snacks for road trips and traveling. You could also serve this with fresh fruit salad, and/or non-dairy yogurt.
Look to repeat some of your breakfast ideas, smaller portions of main meals, or even some of the sweet treats to cut down on extra food prep time, and be economical with items on your grocery list.
1. Carrot Cake Protein Balls (base of dates, shredded carrot, and Vega One)
2. Sweet Potato and Beet Chips
3. Vanilla Cinnamon Chia Pudding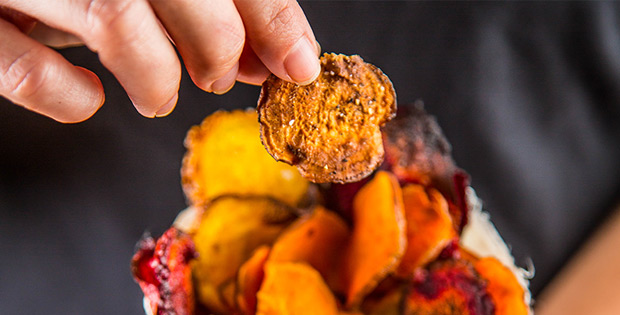 Lunch Recipes
I enjoy making soups a couple times a week, using coconut cream, avocado or blended nuts (such as cashews) for a creamy texture that's hearty and filling. Make a large batch and freeze a couple portions, so you can pull it out during a time-crunched week. Soups are also a great way to use up veggies in the fridge that are starting to go a bit limp (due to moisture loss), yet aren't ready to be tossed.
Try layering your salads in mason jars with wet ingredients on the bottom, making them easy to transport to work or with you on the go. Simply shake when ready to eat, or dispense into a larger bowl.
2. Coconut, Lemongrass and Lime Soup
4. Summer/Fresh Rolls with Peanut Sauce
5. Mason Jar Salads: Layered with your favorite grain-free fixings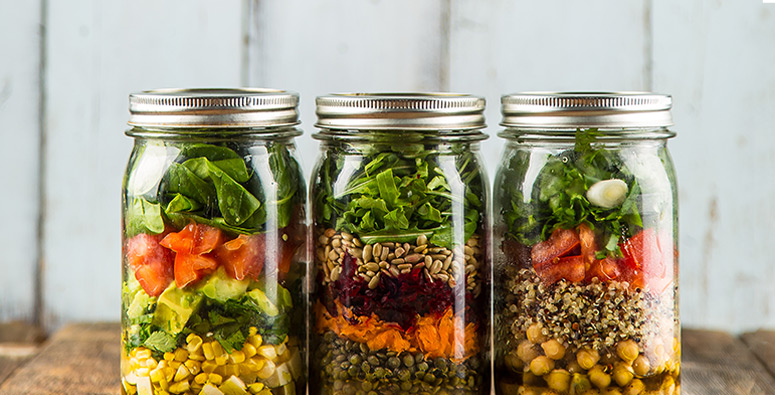 Dinner Recipes
You may notice dinner staples such as squash and root veggies take on a higher importance on your plate in place of pasta or grain-based wraps, tortillas and breaded products.
I encourage getting creative with your meals by exploring new recipes, taste sensations, and textures, versus trying to force a recipe adaptation of a conventional grain-containing meal and have it not meet your expectations. It will be more satisfying to find a new go-to recipe than to try and compare a modified recipe to how it once used to taste.
Having said that, many recipes which call for just a bit of flour as a binder, or grains for texture, can be easily adapted for a grain-free lifestyle. Try using coconut flour in place of gluten/wheat based flours if you need to soak up extra moisture in a recipe, swap nuts or cruciferous veggies (such as cauliflower or broccoli) that have been pulsed in the food processor for grains such as rice in savory dishes, and ground chia can be used in place of oats as a binder.
1. Spaghetti Squash with Vegan Mushroom Meatballs (swap ground chia seeds for ground oats)
2. Mashed Potato Bar(add crumbled nuts and seeds as a topping/garnish option)
3. Stuffed Squash(swap 1 cup rice for almonds, pulse in the food processor until coarsely ground)
4. Mushroom Bourguignon with New Potatoes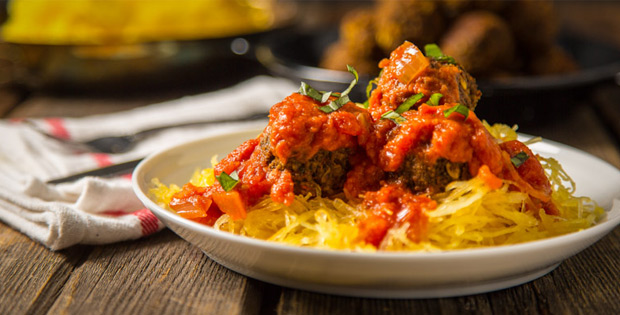 Dessert Recipes
Just try missing grains with these decadent ideas! In some cases, such as the Poached Pears or Raw Chocolate Avocado Pudding, they could double as a mid-day snack.
2. Dessert Dukkah and Raw Chocolate Avocado Pudding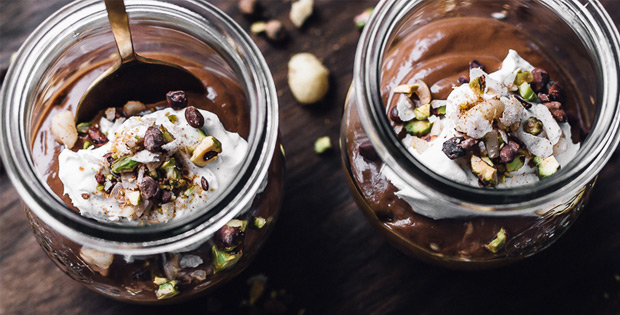 If you're choosing a grain-free or gluten-free lifestyle, what have you found to be some of your go-to meal ideas? I'd love to hear how it's going for you. Let's troubleshoot and share tips together!