Whether you're committed to sticking to your routine all year long or need a kickstart to remind you of your January goals, routine matters. Maybe you (or your children) are heading back to school. Or you're starting a new personal or professional opportunity. In various stages of life, Vegatopians use fall to get back into routine.
Scheduling in health
Vega Account Manager Teri Steinbronn started at Vega in late June. Prioritizing planning has helped her to navigate this new opportunity without becoming overwhelmed. "My biggest strategy is to plan in advance. I try to schedule my workout and meals at the beginning of the week. I need my workout and my eating regimen to be balanced otherwise I'll go crazy. If my workouts aren't planned, it's likely that I'll skip them. Luckily this is a job where I'm surrounded by like-minded people focused on wellness—both my coworkers and clients keep me on track."
Making a list and checking it twice
Vega Trade Marketing Manager Luanne Svetelj doesn't just use routine to keep herself feeling good—it also helps her partner, and three children (ages 9, 9, and 11). Besides going to a school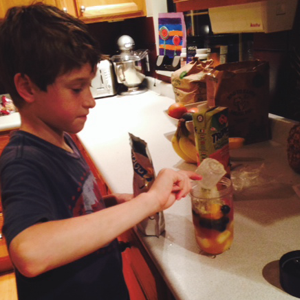 that is a close walk from home, her kids enjoy a non-typical school lunch. "I send them to school with bento boxes.  If it's in smaller portions, with more variety, they can be more likely to try it. Instead of making sandwiches (boring), I make roll-ups with whole grain tortillas. Even just changing the shape of a food makes it more engaging. My other lunch trick is to put an empty thermos in the freezer the night before.  I'll blend a smoothie in morning, pour it into a thermos, and it's still cold for lunch. My oldest now makes smoothies by himself for breakfast or a snack. He's proud of his independence and feels like he's doing things to make his body stronger for all the sports he likes to do.
"Another important element of our routine is checklists. A few years ago I started making morning checklists. When you have 3 kids, and you have to tell them each the 11 steps they need to complete before they leave the house, 5 times over, it gets aggravating. I printed off cards with the list, and as they get dressed, put homework in their backpack and eat breakfast, they check activities off their list. They love the extra motivation."
Planning ahead for busy nights
QA Specialist Leanna Lo takes a 3-hour college Spanish class in the evenings after work. "I wanted to learn a new language for future travel to places where Spanish is the primary language. My class is after work, so I have to prepare my dinner around late-night classes. I either pack dinner or bring snacks. Usually I bike from work to school and bring an apple and Vega Sport® Protein Bar to eat during class and then come home and eat something. I plan ahead to make sure I have enough food so I have the energy to help me stay awake. Luckily, biking to work and class counts as my exercise for the day!"
Making time for what you need to do.
Vega Educator Paige Snyder is taking Biochemistry of Nutrition and Human Pathology Online to complete her Masters in Nutrition—while working full-time. If you're in the LA area you've likely met Paige at one of the Vega Pop-Ups, which keep her working late. "For me, it's really about making the time.  If you're doing something important to you, you'll make it work. I keep my eyes on the prize by reminding myself of how lucky I am to be doing a job that I love as well as studying the information I love. I have to get up early and start studying early. I've read that your mind can be sharp in the morning and better able to remember information, so this semester I'm putting that theory to the test and doing my schoolwork before work. Sometimes it means not going out as much but that's just what has to happen at this time. Making that choice and prioritizing is worth it because I don't want to be swamped in student loans. Luckily I also have a good support system to keep me calm and push me through this."
How do YOU get back to routine?