When Dave Castro, the director of the CrossFit Games announced that there would be a Scaled option this year, every CrossFitter knew what that meant: a more intensive Rx level. With that forged in the minds of competitors, the directors of the Open still found ways to surprise everyone, in several ways.
3 CrossFit Open workouts done, 1 to go
On Monday, the Open will be over. One more workout to give everything you have left, leaving nothing behind. For most, like myself, the last workout is yet another to test our limits, our fitness capacity and our skills. There's been no shortage of skill testing in this Open. For others, this is a chance to get there top spot back, or hold their position and be off to Regionals.
I've had the option to approach this Open in two ways:
Be bitter about not being 100% and hiding in the shadows, or,
Spend my efforts supporting others to push their boundaries, pick up the bar, or get back on the rings.
It's almost been more rewarding of a competition this year with being able to remove the mental exhaustion it takes and rather, put that energy back into the community and in giving people the drive to crush it. Nonetheless, I've done the best I could, and knowing that my body had aches and pains, recovery has been key and maintaining a healthy immune system has been the only hope in putting up a solid score for me and my gym.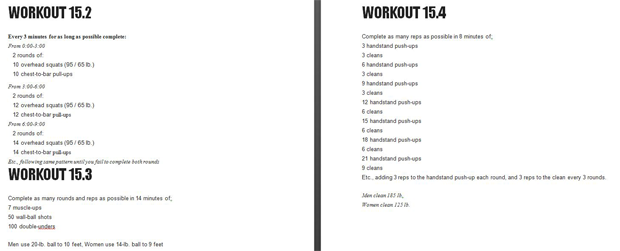 Open Workouts 15.2, 15.3 and 15.4 (image credit: http://games.crossfit.com)
I had the pleasure of dropping in a gym in Venice, CA for 15.2. It was an awesome reminder of how CrossFit gyms greet drop-ins with open arms and an awesome attitude. Unlike your typical gym you lift weights at where you walk in and immediately you're being stared at by dudes in singlets that hardly fit, let alone cover, their chest and back. Yuck. It was also awesome showing up in my local Strike Movement gear and having people recognize it down in Cali.
The last couple workouts brought some exponential demands. Technical gymnast movements like ring-muscle-ups and handstand pushups to heavy weights like 185lb cleans for men and 125lb cleans for women were given as tasks in the workouts. For so many people I train with, it was the first time they hit these movements. I've never seen a gym light up as much as 15.3 when dozens of friends hit their very first muscle up on the rings.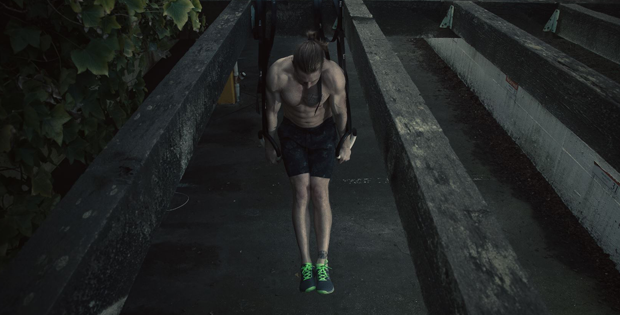 Julian shooting for New Balance. Photograher: Jason Harynuk
As much as I dreaded the movement, and wished it wouldn't show up in the open, Handstand Pushups made their appearance in 15.4. Not only was a movement I've practiced little to none since my broken hand last fall in the workout, they made up the majority of the workout. Still, I dug deep, I pushed through and owed a big thank you to my buddies and coaches when it was said and done. Not to mention, my entire body was lit up.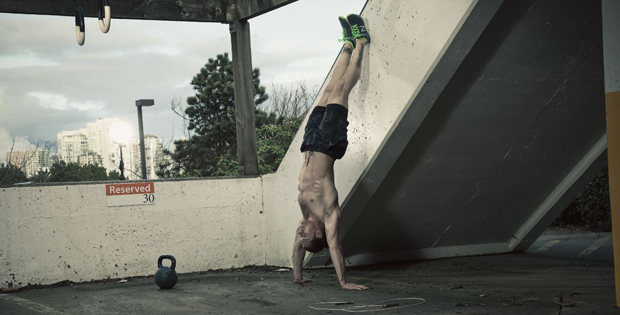 Julian shooting for New Balance. Photograher: Jason Harynuk
I'm not surprised to be feeling as good as I do. Yes, my back is still in rehab mode, and yes my legs and shoulders are fried, but I've been fairly limited as to what I can do or at the intensity I can commit. More so, my nutrition and supplementation has been on point. Getting in the zone with Vega Sport Pre-Workout Energizer, staying hydrated with Electrolyte Hydrator has been key, and both Vega Sport Performance Protein and Recovery Accelerator have been key in keeping me in the gym on a daily basis. Not to mention the Protein Bars I crush every night before bed; yeah that's my vice.
There's one more workout left in the Open; for some, that will be the end of the line until next year; for others, a door opening for another opportunity at the CrossFit Regionals. For most, the Open is a learning opportunity to grow stronger, become more skillful and create new connections in the CrossFit Community and even in our own gyms. Give it your all, but help the next person dig to give their everything as well.