Best Lifer
Definition: One who lives life better every day than the one before. A seizer of opportunity, love, happiness and adventure. In short, a Best Lifer kicks major butt and isn't afraid to break things, get messy and live happily. Every. Darn. Day.
As the Digital Engagement Coordinator here at Vega, I have the opportunity to stay on the plus of our whole online community and all the rad ways they're living their best lives. This exposure has inspired me to run faster, eat brighter and seriously smile more!
Stress is a killer (sometimes literally), though also an easy one to let get out of control. We've got deadlines to meet, errands to run and things on our mind on the daily! A part of living our best is learning how to balance the busy with the calm and these Best Lifers remind us that how we relax can take many shapes. Be it sinking into a savasana or standing tall on a mountain top, let's all relax!
Ming @mingelise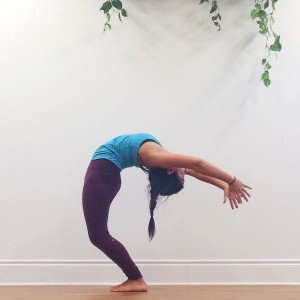 "Yoga lets me live my best life by allowing me to connect with myself, the world around me, and the people in my community. Within my practice, I am able to bring my attention back to my own breath while at the same time focusing on my body and the way it wants to move in that moment. As someone who is easily caught up in pushing herself to meet limits and beyond, it is very easy for me to just keep pushing forward and forget to pause and breathe. Yoga reminds me to feel the wind in my hair and my feet on the earth, to slow down and take the time to integrate everything around me, giving me the space I need to thrive. Close your eyes, tune into your body and the space around you, inhale, exhale, and repeat as needed."
Joanna @livingmintgreen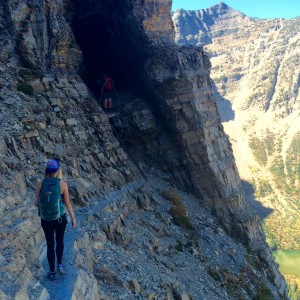 "Spending time outdoors is where I go to plug into life and vitality. Nature seems to have a way of understanding us and holds so many lessons on the importance of relaxing, letting go and giving into the natural flow of life. I learn something new about myself every time I'm on the trail. One of the greatest life lessons I've learned is how incredibly resilient I am. My active outdoor lifestyle has made me tough as nails – I can fall down repeatedly, pick myself up, and move on: stronger than I was before. At the same time, it's softened me. It's opened my heart to new ways of thinking, being and living more fully. I don't want to look back on my life with regrets that I didn't show up and engage in life to the best of my ability. That's what keeps me motivated."
Amanda @picklesnhoney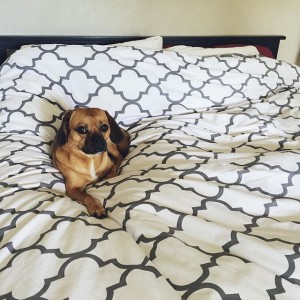 "My dogs, Honey and Barley, are two of the best decisions I've ever made. I'm a notoriously go-go-go type of person and I have a tendency to want to keep pushing through whatever projects are currently on my plate. Honey and Barley, though, demand my attention in the best possible ways, whether that's wanting to go for a long walk, reminding me it's their dinner time and the end of my work day (5:30PM on the dot!), or just needing a good snuggle on the couch. I have a self-imposed rule that whenever I'm working on my computer and they want to sit on my lap, I'll move my laptop aside. It's a great reminder of what's most important and also, it's impossible not to take a break to relax when those big brown eyes are staring at me.  "
Ronak @ronakskitchen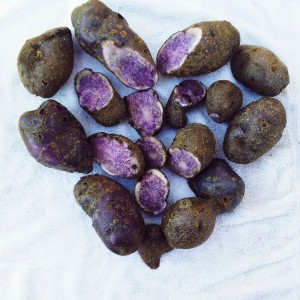 "The time spent in my garden, working the soil and growing my food is when I feel my calmest. It gives me an opportunity to put the stress of the day aside and focus on growing something that is both beautiful and delicious. Being in the moment with nature inspires me to take a minute for myself and relax."
Simon and Linnea @mountainlovebc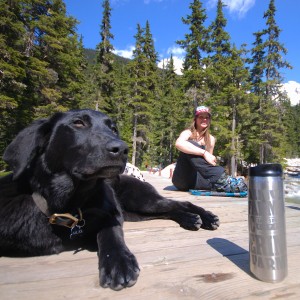 "Our best life is an outdoor life. We fill our weekends with new hikes, climbs and paddles. We are driven to reach the peaks of the mountains we explore, but when we encounter some of the most beautiful scenery in BC, we take the time to soak it in, and truly appreciate where we are. Our adventures sometimes don't have any purpose except to be present in nature. In this photo we were hiking in Glacier National park and on our way back we detoured to this special little spot where we found ourselves surrounded by rivers, trees and mountains. It reminded us how important it is to slow down, relax, and reflect even in the middle of a great adventure."
I love these reminders to take the time to let go, stand-still and say "Ahh," To step back and let relaxation be the balance in your best life.
Psst.. don't forget to share with me how you're living your best life by tagging your photos with #BestLifeProject. My FOMO will be unavoidable, so hit me hard with all the wonders of your amazing life!