If you have a picky eater in your house, sometimes you have to be creative with how you'll get them to eat their fruits and vegetables. While sneaking spinach into your berry smoothie can be a good place to start, we decided to ask three Vegatopian moms how they get their little munkins to eat more of the good stuff.
1. Be a Vegetable Secret Agent
Accounts Receivable Manager Mia Finn has two active kids, Sophie 10 and Daniel 5. "If you have the type of children that are excited by kale chips and roasted parsnips I applaud you. You are my hero.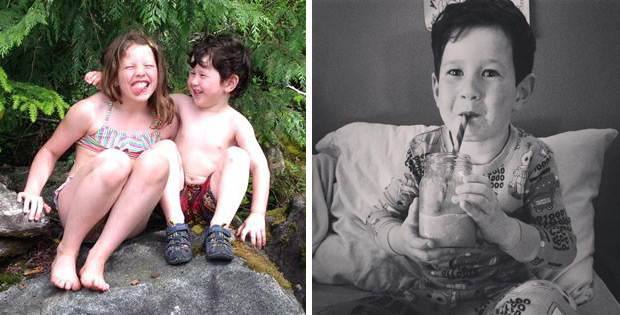 "But if you have kids like mine, you pretty much have to be a secret agent to get your kids to eat a variety of veggies. Maybe you're exactly like me? You're busy, you're tired, and you don't have time to make carrot flowers or bunny shaped kohlrabi. I think you are. So here are my practical tips on how to be a veggie hero in your house:
2. Teach your kids how veggies make them AMAZING.
My 5 year old son wants to be Spiderman. Okay, so Spiderman loves veggies because they give him the energy to climb buildings. Makes sense right?! Capitalize on this. Work it hard. Spiderman loves parsnips, I'm sure of it.
 3. Let them help you prepare healthy snacks.
Empower them to choose a few of their favorites; carrots, cucumbers, then add some broccoli. They may not eat the broccoli the first time, but if they participate in plating it a few times, you'll be surprised. You can take this a step further and have your kids help you grow the veggies. This makes them feel AWESOME. They made those peas and lettuce, they OWN them. It's magic. It worked with my kids, so it will work with anybody's!
4. Have yummy dips and dressings.
Let's face it veggies are nicer with hummus or ranch dressing.
5. Plate it up during the witching hour and run away.
You know that 1 hour before dinner? When your kids are starving and driving you a crazy? Slide a plate of veggies and dip into their playspace. Seriously, they don't even realize they're eating it. This is also magic.
6. Pulverize it and hide it in sauces.
It's amazing how kale looks like oregano when it's .25 of a millimeter."

7. Make it Normal
Senior Executive Assistant Reese Davidson's two children (ages 4 and 8) have gone through their picky phases for sure. "We have been successful at getting them to eat their veggies in numerous ways. The first is to disguise them. You can put a lot of veggies into pastas or stir fries, whether it's pureed or just cut up and simply mixed in. They don't usually suspect if it looks like one of their normal, everyday foods.
"We also just continue to put it on their plates.  I know it sounds so simple, but if you keep introducing something and don't force them to eat it but do tell them that they have to try it, even just a small bite, after a while they will get used to it and their palates will  adapt. Familiarity might just win over. I also don't think that slight modifications are bad. For example, my son can't stand the texture of cooked carrots, however everyone else in the family loves them. So I simply keep a few raw ones aside and put those on his plate He's still eating them and it was no real extra work for me. Don't force your kids to conform to the way that you prefer your veggies.
"For me it is not about fighting with the kids, just showing them that there are alternatives and that it is a daily part of our lives and they can get on board or fight it. It's just about continuously introducing them, hiding them, and/or making slight modifications."
8. Introduce Early and Keep Tasting
Strategic Account Manager, Melissa Hauser's son Nolan is now 3 years old, but he's been easy to pea-se when it comes to eating vegetables.
"Perhaps I'm blessed, but I have a child who loves vegetables!  Nolan's favorite foods include peas, broccoli and carrot juice (he's no health-nut though; he also loves vegan mac n' cheese and frozen waffles!).  Vegetables were the first foods that we introduced him too; steaming, pureeing and then freezing sweet potatoes, peas, spinach and broccoli.  He developed a taste for these vegetables years before we introduced him to sugar and processed foods, which I truly believe set the stage for healthful eating.  We also have a house rule that you must try at least one bite of everything that's on your plate during a meal.  If you try it and hate it, then we can go back to a staple, but you must at least first try it.  After some toddler-whining earlier this week, Nolan finally popped a green bean into his mouth after which he exclaimed, "I like green beans!".
"When I do feel that his veggie intake is low, we resort to smoothies.  I plop lil' man on the counter, and he helps me load up the blender with greens, cucumbers and fruits."
How do you get your children to eat their vegetables?